This post is by Bernie Carr, apartmentprepper.com
This past Christmas, I gave my nephews mini flashlights they can carry around in a key chain and let me tell you, these flashlights were a huge hit. It was something they could use every day, and comes in handy all the time.
Some might say you can use your phone for that, but there are downsides to that. Some flashlight apps were said to carry malware, so I avoided getting those apps. You may not want to have your phone in your hand in certain situations, such as when you are walking in a dark, sketchy area.
I personally carry a mini flashlight in my key chain, and have a couple in the car's glove compartment. You don't need to be a survivalist in the woods to find uses for them.
Why carry a flashlight daily?
Lighting
Of course, the first reason would be lighting! I've used my flashlight
· To locate my car in the dark.
· When I come home late and have to open the door.
· At the movies (pre-COVID) to find my seat.
· If you have it in a key chain you always know you have light in a power outage, such as the time we had a power outage at work.
Self-defense
If you are stumbling around in the dark, you can potentially make yourself a target for predators. Shining a bright light in an attacker's eyes and momentarily causing them to pause may give you a few seconds to run away.
And, flashlights can be carried anywhere including airplanes, without worrying about whether it's legal to have one on your person.
NiteCore TIP SE – A good flashlight to have
Speaking of key chain flashlights, I got a review sample of the new Nitecore Tip SE.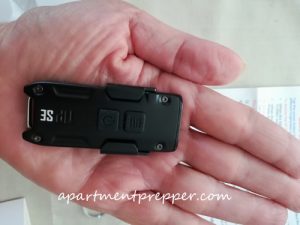 I tried it out and it has some great features.
· Nice design and compact size. You can see from the photo it easily fits in the palm of my hand.
· Lightweight – it weighs less than 1 oz.
· The key ring included makes it easy to attach make it your key chain, and the utility clip allows you to attach it to a backpack or even a baseball hat.
· The charging cable makes it easy to charge on any USB power source.
It is well-made and gives off a bright light at the highest setting.
I charged it before use, per the instructions. A red light appears while it's charging, and the light turns green once it's charged. The light changed within 15 minutes the first time I charged it.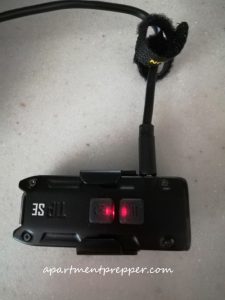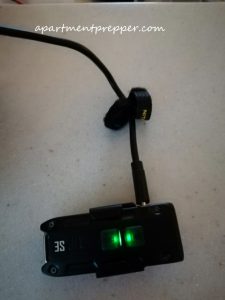 The flashlight is tiny: 2.36 x 0.96 x 0.54 inches and therefore easy and convenient to carry.
At the brightest setting, it shines at 700 lumens. Light settings include:
· low – one lumen
· medium – 30 lumens
· high – 180 lumens
· turbo – 700 lumens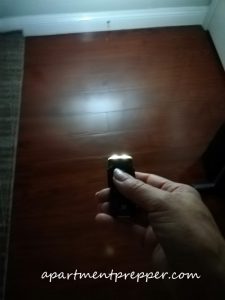 It is easy to operate:
On/off button
Mode – to cycle between the different light settings, and it can also immediately go to turbo brightness by holding for 6 seconds, even when on the flashlight is on the "off" position.
My impressions
Overall, I thought the Nitecore TIP SE is a good flashlight:
· I like the simple, slim design, as well as the clip and key chain features.
· I also liked that it is lightweight.
· I also liked the brightness settings, particularly the turbo.
· It is easily chargeable, and does not require batteries.
· Most of all I do like that it is easy to operate. In an emergency, it's best to have gear that is very simple to use.
At $29.95, plus $4.99 for the USB cable, it is on the higher end price-wise, however the features are worth the price.
Overall, I recommend the new Nitecore Tip SE. It would be a worthwhile addition to your everyday carry.
************************************************************************
About the author:
Bernie Carr is the founder of Apartment Prepper. She has written several books including the best-selling Prepper's Pocket Guide, Jake and Miller's Big Adventure, The Penny-Pinching Prepper and How to Prepare for Most Emergencies on a $50 a Month Budget. Her work appears in sites such as the Allstate Blog and Clark.com, as well as print magazines such as Backwoods Survival Guide and Prepper Survival Guide. She has been featured in national publications such as Fox Business and Popular Mechanics. Learn more about Bernie here.