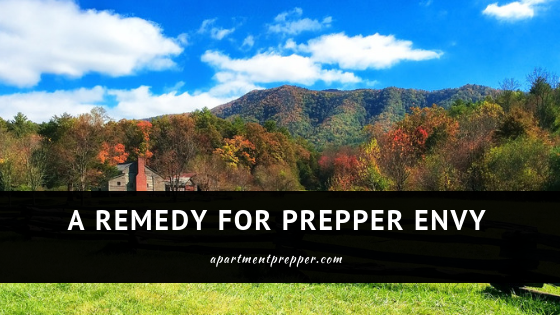 This post is by Bernie Carr, apartmentprepper.com
When you first start looking at survival and preparedness websites or even read posts on Facebook groups, you see how much people have done to prepare.   You can't help but be impressed at their extensive stockpiles, skills and survival retreats.  Then comes the inevitable downer:  you compare your puny one month worth of food to their one year's worth of food and feel like you haven't made any progress at all.
I know because I have been there.  Being limited by lack of space, I know I will not be coming close to a year's worth of supplies anytime soon.  I have felt inadequate and insecure about my own efforts and wonder if it's even worth it.
I pick myself up from the dumps when I realize where I was before I started preparing.  I barely had any emergency supplies at all, a couple of days worth of water, with only a change jar of pennies for cash.  Back then, I did not realize the value of acquiring skills like gardening, bread making or water purification.  I realize how much further along I am now, compared to where I was before.  This makes me feel a lot better. 
The next time you start to feel like your efforts have not amounted to much, stop for a moment and consider the following:

Everyone is different

Everyone is in a different stage in their preparedness efforts.  We also have different situations.  Some have to stay in the city or suburbs due to work and school commitments, while others already live in a rural area by choice.  Think about where you were before you started to prepare.  Your neighbor next door may have never thought about it and is barely starting to realize how unprepared they are.

You've taken the first step
If you are just starting out, realize that at least you have made an important decision to become more prepared and self-reliant.  Being new is great – that means you have decided to prepare.  And, if you read about others' prepping mistakes you could save yourself a lot of wasted money and efforts.

Do a little bit each week
Buy whatever supplies you can afford each week. Even if you just spend $5 a week, you can build a stockpile in no time.

Build skills
Having supplies is not the whole picture.  Learning skills is also important.  Pick up a new skill each month and you will be way ahead in your efforts in a short time.
Consider where you might be if you never even got started.  You will be amazed and gratified at how far you have come.
© Apartment Prepper 2018