Tomatoes
This post is by Bernie Carr, apartmentprepper.com
I mentioned in a previous Monday Musings I started the apartment garden.  The day I started the garden our area had a cold front, and temperatures were down in the low 30s (that's cold for Houston this time of year).  I had to keep the plants indoors at night, and took them out for sun during the day.  Now that it's warming up again, I can leave them outside.
Oregano and thai basil
Peppermint and Chocolate Mint
Scallions grown from trash
This year I am covering all the plants with netting to avoid caterpillars and birds from attacking them.  I also placed the plants in different spots from where I had them last year. I hope I have better luck this year than last year.
© Apartment Prepper 2013
Get the real deal. Whether bugging out or sheltering in place, you can never have enough clean water for survival:
For your water purifier needs, please visit
: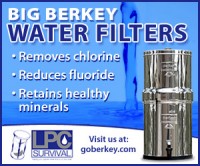 For beginning preppers