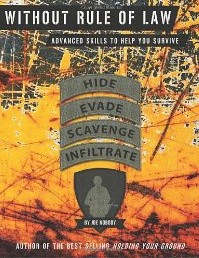 This post is by Bernie Carr, apartmentprepper.com
Today I wanted to share my review of Without Rule of Law, by Joe Nobody.  I've read a couple of his other books:  Holding Your Ground and Holding Their Own.  I also had the opportunity to interview Joe Nobody not too long ago.
The title, Without Rule of Law:  Advanced Skills to Help you Survive is aptly titled – it is really for the "advanced" level of prepping.  The skills taught in the book are applicable in a worse case scenario, when things fall into anarchy, there is little or no government assistance and emergency supplies have dwindled, soon to run out.
I should mention that Amazon carries the following WARNING: This book contains material that may be offensive to some readers. It is an instructional guide covering tactical actions and capabilities which should only be executed in last-resort survival situations.
I have a confession to make:  It took me a while to finish Without Rule of Law.  In fact, Mr Apt Prepper read it before I did.  After he finished reading, he told me he found good insight but it goes above and beyond what most people's perceptions are, and what they are willing to face.
The reason it was difficult for me to read this book is because it deals with situations that most of us are not prepared to face:  How to "hide, evade scavenge and infiltrate" as the book cover shows, are largely skills that most beginning and intermediate preppers haven't thought about in much detail.  On the surface, you know "Times can get bad," but you don't really think in terms of "How bad?" and "What will I do when my preps run out, the family is starving?"   To be able to read the book, I had to accept that in an actual breakdown of society, the situation will become extreme enough that these skills will be necessary to survive.
I finished reading the book recently.  Without Rule of Law delivers what it says:  how everyday folks can learn how to hide, evade, scavenge and infiltrate.   It is an instruction manual that will tell you all the necessary equipment, steps to take, and exercises that will help you become more proficient in these skills.  It opened my eyes to certain ideas that are still new to me.  One example of something I learned was "everything must work at night"  We've practiced using our equipment but have only done it during the day.  Well, you need to be able to get things to work when it's dark so it's necessary to practice in low light conditions.  I was fascinated with the sections on how to hide in plain sight.  Different scenarios, in both rural and urban settings are included.  It is up to the reader to find what is applicable to his or her situation and comfort level.   Without Rule of Law covers a lot of tactics that you hope you never need but may have to utilize if the worse case scenario were to happen.
© Apartment Prepper 2012