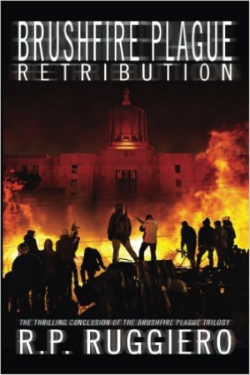 This post is by Bernie Carr, apartmentprepper.com
Brushfire Plague Retribution is volume 3 of the Brushfire Plague series.  We reviewed the first book and found it to be riveting.  The third book does not disappoint; it continues to deliver as much, if not more action as the previous books.
What is it about?
The Brushfire Plague series is about a world falling apart as a result of a widespread plague.  Millions of people have died and violence is rampant.
Cooper Adams, our hero must decide on his best course of action on how to deal with a world that has fallen apart, and the conspiracy that he unearthed.  At the same time, the unrelenting viciousness and ugliness in the world has taken a toll on Cooper's son, Jake.
What I liked and didn't like about it
I enjoyed the detailed story telling, as well as the fast pace of the book.   I didn't like that I forgot certain details from the last two books; I would have liked a recap of what had gone on before.  However there was enough action to keep me turning the pages and I eventually remembered some of the details I was missing.
In conclusion…
All in all, Brushfire Plague Retribution is a good read.  I recommend starting from the first volume so you don't miss anything.
© Apartment Prepper 2016
Disclosure: This is a professional review site that sometimes receives free merchandise from the companies whose products we review and recommend. We are independently owned and the opinions expressed here are our own. Apartmentprepper.com is a participant in the Amazon Services LLC Associates Program, an affiliate advertising program designed to provide a means for sites to earn advertising fees by advertising and linking to Amazon.com