Editor's note:  A few weeks ago, we posted  Why Build and Bury a Powerful Communications Cache  which generated a lot of reader interest.  Today, James Walton is back with Tips and Techniques to show you how to make your own.
Bury a Powerful Communications Cache – Part 2 Tips and Techniques
By James Walton
We are going to take a second deeper dive on the topic of burying a powerful communications cache in times of disaster. In the first article, we focused on the types of things that would go into the cache and the leverage a cache like this would give you. In this article I think we should talk about hiding one, grounding a cache full of electronics and the many reasons you may find one necessary.
Hiding in Plain Sight
Let's get very personal regarding the hiding caches. While I can offer up several locations in well-populated areas to hide caches, I think the better method for this will be to teach you how to find effective hiding spots for caches by using google maps.
Whether you know it or not there are plenty of hiding spots right around your apartment. It's all in how you look at the world. There are little nooks for hiding things in almost any area. If you know the behavior of people than you can certainly find a few spots for caches.
That said, I think the most effective use for caches is to have them on a route from one place to another. In other words, having a cache outside your apartment might not be that beneficial if you could just store the items in your apartment. Unless of course, you are looking to protect items from looting or the effects of an EMP.
Creating a Map for Cache Locations
Let's look at this random apartment complex that I may or may not have lived in when I was in my early 20's. Looking at the map you can see that there are many areas that are not trafficked often by people or disturbed. These are also locations that are protected by city or apartment property.
The caches on this map are the little 3D cylinders.  There are 5 of them total and one is a little small. Starting from left to right I want to explain their locations.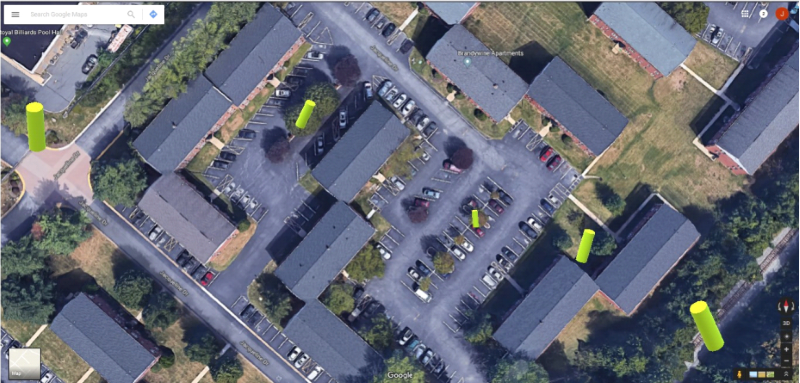 This cache is buried behind a small shopping center in a strip of dirt that is far too small to build on and will remain undisturbed except for basic landscaping.
The two trees are buried in a small decorative median and these make great spots to bury caches
This is an even smaller decorative parking block. This area will hardly ever be disturbed and would be an easy area to bury if you were "working on your car" early one morning.
This area is just outside the apartment. It's a large tree that will likely be there a while. This could be a tricky hide but a great spot once the cache was hidden.
The train tracks behind the apartment complex could be a great way to start a bugout and would be a great place to bury a cache.
Grounding our Cache and the Items Inside
There are many ways that we can prepare the items in our comms cache to assure they last a long time as well as resist the harmful effects of an EMP.
First, let's talk about the electronics and how we should prep them. Most of what you will store will be battery powered and the best move you can make before storing these items is taking the batteries out of them. I like to rubber band batteries to the item that uses them. You can also use tape for this.
If you forget to remove the batteries from your comms tools you will find that the batteries can be drained, or worse they can leak acid into your electronics. Yes, this will destroy your comms.
While you can create your own levels of protection against aanEMP I think a better use of your time and money is to invest in products that are being sold to do the job. I like the EMP bags from disasterstuff.com.
https://www.disasterstuff.com/store/pc/EMP-Bags-c128.htm#steps
Also, remember that you are burying these caches in the ground and while we cannot predict where the EMP might hit or the focus of its power, having your comms buried and covered in EMP proof bags is going to get the job done. There is also a good chance that all areas and electronics will not be affected the same way.
All that considered, I feel good about prepping my comms, EMP bagging them and having confidence that they will be there when I need them.
If it would make you feel better, you could line your cache with lead or foil as well. Not the method that I use but if you are into multiple layers of protection, I get it.
Conclusion
The survival cache is a powerful tool, particularly in an urban collapse. They will allow you access to food, water, tools, weapons, ammo and other things when you are away from your home. Caches may also be used to protect items from looting or in our case the devastating effects of an EMP.
Like all things in your survival plan you must, well, plan. Do exactly what I did in this article and really study the best places in or around your area to bury your communications cache.
About the Author
James Walton is the host of I AM Liberty a podcast that airs on www.prepperbroadcasting.com. He is also the author of Come Unity, Community a book about neighbors and prepared communities. You can read more by James at www.iamlibertyshow.com
Here's a special deal for Apartment Prepper readers – 66% discount off the Survival Hax flashlight price on Amazon. Just add to your cart then use the code SHAPTPRP at checkout.  The discount is valid until March 15, 2018.