This post is by Bernie Carr, apartmentprepper.com
Just a quick post today, where I share articles I find interesting. In the past couple of weeks, I have been reading that food riots are already occurring in some parts of the world as a consequence of the coronavirus lockdowns.
Italy
Residents of Southern Italy had already seen their share of food riots. According to Bloomberg,
Police have been stationed outside supermarkets in Palermo after at least one group of angry residents refused to pay for their purchases. The private Facebook group National Revolution, which has about 2,600 members, is urging others to stage such raids, according to newspaper la Repubblica.
Due to the coronavirus lockdown, people are unable to work and earn money to buy food for their families. They become desperate and turn to any means necessary to obtain food.
South Africa
In Cape Town, there was mass rioting and looting due to food shortages caused by the coronavirus pandemic.
According to The Sun:
Looters raided shops, attacked each other, the army and police after breaching one of the strictest lockdowns in the world.
Rioting broke out in deprived areas of Cape Town where millions are currently confined to crammed townships.
Those waiting for much-needed aid built barricades of burning tyres and fought running battles with similar scenes witnessed in Johannesburg and Port Elizabeth.
Venezuela
In Venezuela, riots erupted over food and fuel shortages, as the coronavirus quarantine made their already precarious situation worse. Families in poor areas are unable to get basic supplies due to disruptions in food deliveries.
Reuters reports:
"A Venezuelan man was shot dead on Thursday as locals protesting food and gas shortages looted several stores in one southern town, a rights group said, as frustrations spiked six weeks into a quarantine that has worsened an economic crisis"
Food banks are struggling
We are hearing reports that food banks are already struggling due to the high demand from families that now need assistance. As job losses mount, people are unable to afford food for their families. There are reports from all over the country of thousands of cars lined up on distribution days, such as this one from NPR, where ten thousand cars waited in line in San Antonio, TX.
We may be facing a meat shortage
We are already seeing reports that a meat shortage is looming here in the U.S., as meat processing plants get shut down due to the spread of the coronavirus. Although food processing plants are considered essential and remain open, if employees catch the virus, the plants are forced to closed.
According to Fox News, several meat processing companies have already been forced to close. Smithfield, Perdue Farms, and Tyson have had processing plants closed after employees get sick from coronavirus.
If food can't get to the markets due to supply disruptions, then we may see food shortages. Even if people have the cash from stimulus checks to buy food, if there is no supply available, they will not be able to buy food.
In conclusion
We are fortunate that we are able to buy most of our food supplies at this time. We've all seen low stocks on many food items such as canned food, eggs, flour, yeast, pasta and other foods. Some stores are beginning to restock, but areas continue to see low supplies. We've seen what happened when toilet paper first became scarce.  Fights were breaking out in stores and parking lots. To answer the original question, can food riots happen here… Absolutely.  When people become desperate, they will do whatever they feel they have to do. Prepare now, as best as you can. Here are a few article that may help you.
How to Survive When You Can't Pay Your Bills
Stop Wasting Food and Save Money
10 Tips to Help When You're Too Broke to Prep
Save Money with an Extreme Frugality Mindset
**********************************************************************
We are an affiliate of Amazon.com, which means we received a small commission if you click through one of our Amazon links when you shop, at totally no cost to you. This helps keep the lights on at the blog. Thanks!
Photo by Hasan Almasi on Unsplash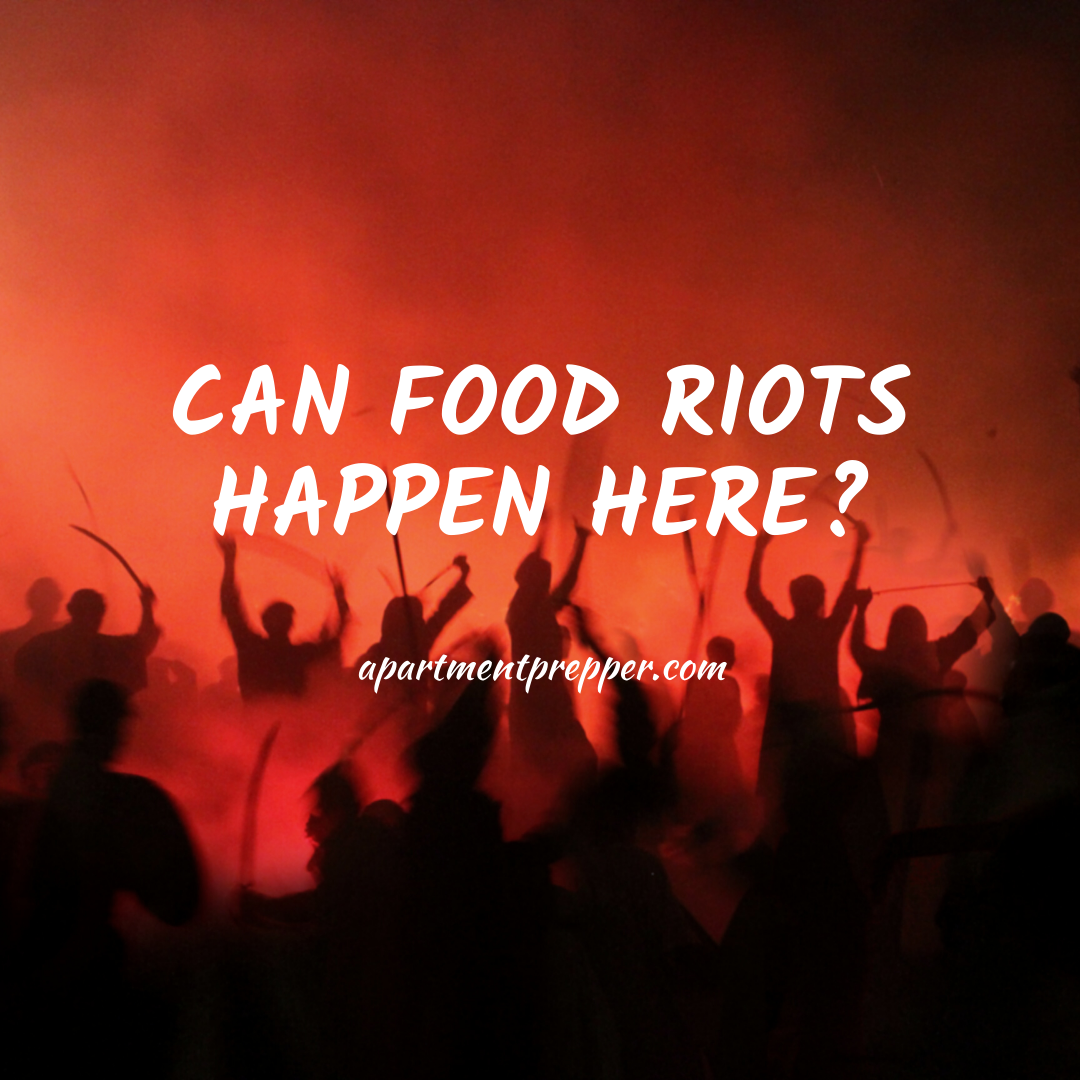 About the author:
Bernie Carr is the founder of Apartment Prepper. She has written several books including the best-selling Prepper's Pocket Guide, Jake and Miller's Big Adventure, The Penny-Pinching Prepper and How to Prepare for Most Emergencies on a $50 a Month Budget. Her work appears in sites such as the Allstate Blog and Clark.com, as well as print magazines such as Backwoods Survival Guide and Prepper Survival Guide. She has been featured in national publications such as Fox Business and Popular Mechanics. Learn more about Bernie here.