Written by James
After spending about 10 hours in total putting together this guide about sleeping arrangements for your bug-out shelter (air mattresses to be specific)…I spent 5 minutes researching what happened across the USA in those 10 hours.
Here are a few events that struck us while I was hitting the plastic buttons on my keyboard:
Major eruption of the Pavlof volcano near Anchorage Alaska
A tornado in Louisiana
Earthquake in Oklahoma
So, before sharpening our blades and looking at the best scopes for our semis, let's take a moment to be practical and talk probabilities.
Most realistic bug-out scenarios we can think of right now will drive us to our shelters to weather the storm. It's a common mistake (although probably more fun) preparing to rough it up in the woods and fail to prepare for urban or shelter survival.
Sleeping arrangements for your shelter
While crashing at your friends' house or in a cheap motel room will probably have the sleeping arrangement covered, for your shelter, a good airbed is a piece of the puzzle we simply can't ignore.
So, let's take a moment and talk about what to look for when choosing the best air mattress for your situation.
Think quality
Words like "quality" have never been thrown around more easily by the companies trying to sell us the products.
It's understandable, it's their job to get us to buy.
It's also our job to be educated consumers and make sure we are getting our money's worth. So, let us do that – let's separate marketing blabber from what you should be looking at when choosing and air mattress:
Look past phrases like "high quality" or "puncture-resistant" and look for specifics:
Materials
Most of the inflatable beds will be made out of PVC, look for the ones that are textile or rubber-enhanced and the ones that are specific about the PVC being thicker (the ones that do make them thicker will go out of their way to brag about it).
Safety
It's a much lesser concern than it used to be since the air mattress companies started using fumes-free materials for all their products and since a few studies emerged showing that an air mattress has the lowest off-gassing of all the mattress types (research below).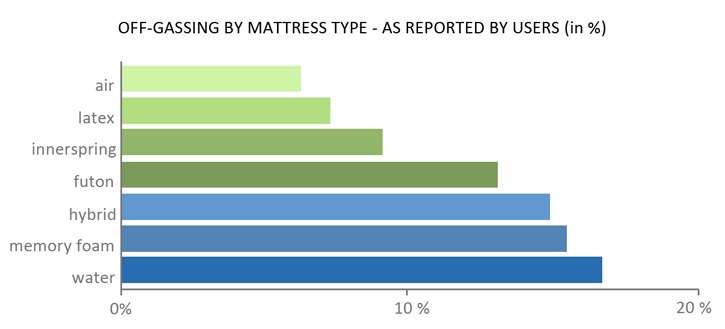 Still, your shelter is not likely to be as ventilated as your bedroom and when choosing a blow-up mattress, take a look at the specs to make sure that it lists BPS-free or phthalates-free – these are the chemicals that used to be an issue.
Power source
Do you have an electric power source in your shelter? What's the likelihood of it being cut off at some point?
Those are the questions to ask you before choosing an airbed…
Since being prepared means thinking in advance, you will want an airbed that's versatile when it comes to the way it's inflated. You are probably better off with one that can inflate both using electric power, batteries and by using a manual or leg pump when push comes to shove.
Make a wrong choice here and you might be left with a piece of useless plastic…
Comfort
Air mattress has gone a long way from being beach fun and has moved many homes as a permanent bed, mainly with the people who enjoy the fact that you can choose your level of firmness.
But in your bug-out shelter, the level of firmness is not going to be such an issue – you are trying to survive after all and comfort is not a priority.
On the other hand, you might be sleeping on the bed for weeks, months, years in the worst case scenario.
Chambered design is the name of the game here.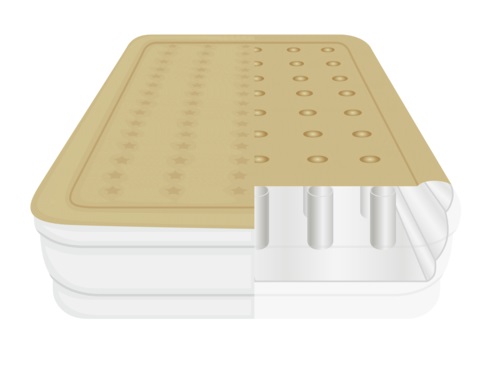 The main issue with airbeds used to be the lack of support and it was all about the inner structure.
Modern airbeds that will keep you sound asleep (the good ones) are designed to address just that, using air chambers to mimic the springs of a regular mattress.
Bottom line – every brand has their own pet name for the chambered design but in reality, they are pretty much the same thing. What you should be looking at is the number of the chambers – the higher, the better.
As a rule of thumb, go with 30+ chambers. These beds not only sleep better, but are more durable.
Think space and size
Air mattresses do pack small and you'll probably be able to stuff 3 of them in that small locker and that's not really an issue whether your shelter is your apartment or a cabin in the middle of nowhere.
What you should be looking at is to optimize the space, where the mattress(es) would go and how many people they can accommodate.
Twin size is the sweet spot – it comfortably sleeps two people.
Go down a level (single) and you have a mattress that sleeps one person and two of them take significantly much space than a twin.
Go up a level (full) and you still have a bed that sleeps two people but, again, takes up much more space than the twin.
To sum up
We might think we have it all figured out, we have our energy bars, we have our water filtration systems in place but it's not uncommon for some essential survival needs staring us in the face to be overlooked – like proper sleep.
Choosing smart when getting a portable airbed can make all the difference.
Stay safe,
James
About the Author:
James is the editor-in-chief of 3Beds.com, a site focused on adventure stories, tips and reviews of air mattresses and sleeping pads. He's a zealot for all things outdoors and an established authors in a number of online publications like TGO Magazine, Klymit blog and Gear X. As he says, his adventure days are behind him, but the days of talking and writing about the lessons he learned over the decades are just starting out.