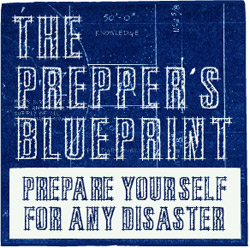 This post is by Bernie Carr, apartmentprepper.com
I had the opportunity to read The Prepper's Blueprint written by Tess Pennington and edited by Daisy Luther.  This is a huge book and it give you a wealth of information about preparing for any disaster.  Becoming prepared can be overwhelming but this book will walk you through what you need to know.
The Prepper's Blueprint, offers a "no nonsense" guide to preparing for either short term or long term emergencies. The book is written in a friendly, non-judgmental tone; you feel like a friend is helping you get motivated. Tess Pennington knows of what she writes. I liked the practical advice and actionable steps that anyone can follow. This book is a keeper.
In addition, I also interviewed the author, Tess Pennington.  Tess has made the big leap that many of us can only imagine:  moving from life in the big city to a small town.   Even though we can't move just yet, there are many things we can do to live more sustainably while living in the city.  Read on…
1.  There are multiple threats to prepare for – what are you most concerned about?
My largest concern is with the deterioration of the economy. Currently, 1 in 4 Americans have no emergency savings. Emergency savings is hard to do when the country is in such a fragile economic state. Americans are struggling and finding ways to cut corners and learn to make ends the best they can. We are dealing with an epidemic of unemployment, the amount of families on food stamps is staggering, and it is becoming clear that an economic recovery is nowhere in sight.
Many years ago, I was enslaved to debt, we had no savings, I had no preparations and my young children were depending on me to get them through. My husband and I made some abrupt changes. We consumed less and worked at paying off our bills. Rather than taking vacations, we invested in emergency supplies and began growing our own food sources. I wouldn't say that we are 100% self-reliant, but we are close to being debt free and are closer to our goal. One aspect of preparedness that is not discussed often is the time involved in accumulating supplies, learning the pertinent skills and becoming confident in your abilities. This takes years and those who are new to prepping may become discouraged in the process. The best way to approach prepping is with open eyes and new mindset.
If we can each take steps to eliminate debt, save money, simplify our lifestyle and prepare for the unexpected disasters that life can throw at us, then when those emergencies do happen, we will be prepared and ready to face them head on. We will not be as dependent on the economic cycles.
2.  What was a driving reason to leave the city and relocate to a different location?
Our driving reason was that the life in the city/suburbs didn't reflect what we wanted anymore. We were ready to get some land and practice a more self-reliant lifestyle. Luckily, my husband and I work from home, so we were able to be picky about where we moved to. Not many people have the opportunity to pick up and move. Where our job is usually reflects where we can and cannot live.
For us, living in Houston, TX came with certain concerns. This is a densely populated area, crime rates seemed to be increasing, and there were concerns of multiple natural disasters and man-made disasters that we didn't want to subject our family to. When we made the decision to move, we did a lot of research on areas around the country that were not densely populated, were rich in natural resources and didn't pose as many natural disasters compared to where we were living. One resource that was exceptionally helpful during this research period was http://www.city-data.com/.
3.  What was the most difficult adjustment you (or your family) had to make?
In all, I feel that the adjustment was easy because I had done a lot of research in homesteading and self-reliance living. I knew going into it that there were going to be some challenges and learning curves. I wanted to get my hands dirty and knew that mistakes were all part of the process.
The most difficult thing I have found about the whole process is not be complacent. We get comfortable with things, maybe a little cocky in learning new skills and then you just stop learning, stop reading about new products and perhaps, become less open to new ways of thinking. In my experience, you should always be continuing to learn and train your skills. Find people around you or online that share your interests and learn from them.
4.  What steps can be taken to ease the transition when you move away from convenient and familiar surroundings?
When you make the decision to move away from all that you know, it can be scary at first. You may doubt yourself and your abilities. But, don't give up! As mentioned above, my husband and I did a lot of research on where we were moving and had a plan of action before we moved. I had my checklist of things to do before I left.
My biggest advice for this question is to trust in your decision and give yourself time to adjust and acclimate to your new surroundings. One of the first things I did when we moved was start getting my garden set up. I am one of those people who have to have a garden growing. It calms me and gives me time to myself. You could also join local grounds (master gardeners, go to the gun range, meet up groups, etc.) to get you meeting the locals.
5.  Many families are unable to move out of the city due to financial and family reasons – what would you recommend in their situation?
Roughly, 80% of the population is urban, so you aren't alone. There are many things you can do to promote a more sustainable lifestyle while living in the city. Make the best of where you are and refine skills you can use in an urban setting. Some great skills you can easily learn are:
Raise micro-livestock
Garden and produce your own food supply
Forage for local plants and herbs
Learn about Hydroponic/Aquaponic food production
Train your physical body in the event of evacuations
Take an emergency first-aid class or self-defense class
Start a prepper's pantry and store shelf stable foods
Learn how to preserve your food supply
Go to farmer's markets and get in contact with local growers and practice bartering
Visit self-reliant or prepper expos and take some prepper classes
Many families have to stay in urban areas but do not let that stop you from your prepping endeavors. There are lots of things you can do and many people who are in the same place as you with the same interests. Hopefully, the above suggestions can help you get started.
Now for the giveaway…
Tess is giving away a copy of The Prepper's Blueprint to one lucky winner.
To enter, just comment on the question below:
Describe what skills are you trying to acquire to live more sustainably and why?

The winner* will be chosen at a random "Pick a Giveaway Winner" drawing on Saturday, August 9th at 8 pm Central.  *Winner will be notified via email.  Winner must reply to email notification within 48 hours or other winners will be drawn.
 THIS GIVEAWAY IS CLOSED

© Apartment Prepper 2014
Please click here to vote for me at Top Prepper Websites!