This post is by Bernie Carr, apartmentprepper.com
My last post discussed possible alternatives for dealing with liquid waste while trying to bug out without having to stop.  We found the Travel John, a popular product among campers, online.  Before I recommend anything I always try out the item to make sure it works.
What is the Travel John?
It is a disposable urinal that is portable, is said to be leak proof, and odor free.
The box came with 18 disposable urinals, hand wipes and tissues.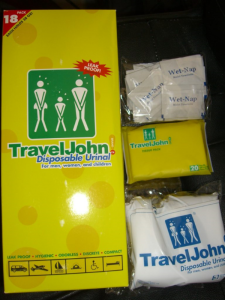 To use, unroll one of the disposable urinals, pee into it, fitting the funnel's opening directly underneath.
The Test
For this test, I used dirty dish water.  It was simple enough to use, if positioned correctly, there was no resulting splash or spill.  The crystals inside the bag instantly puff up to absorb the liquid.
Now for the sniff test.  There was no odor unless you got really close to the opening.  It was not a strong whiff at all.  I am not sure if this is supposed to be one use only, so I propped up the bag and added more water to it 30 minutes later.  The crystals continued to absorb the liquid twice more after the first time, although the liquid took a bit longer to get absorbed.
Result
I overturned the bag over the toilet to see if it would leak.  It did not leak at all, not even a drop.  The crystals absorbed all the liquid and stayed solid.  You don't even have to seal it shut.
I would say this item worked really well.  It would come in handy if you had to bug out in a hurry and there is no place or time for a bathroom stop.  I purchased a few more for the car survival kit.  The 18 pack is currently priced at $29.98, but is also available in small quantities at a lower price.  Even if nothing happens, you can save it for long road trips or for camping.
© Apartment Prepper 2017
Apartment Prepper is a participant in the Amazon Services LLC Associates Program, an affiliate advertising program designed to provide a means for sites to earn advertising fees by advertising and linking to Amazon.com