Written by Bernie Carr
As the coronavirus pandemic has continued to spread in the last several months, it appears we will be dealing with it through the fall and winter. Although many stores have restocked on antibacterial gel, many cleaners such as Lysol wipes are still in short supply. As we enter the cold and flu season, it's even more important that we know which household cleaners can kill coronavirus.
Bleach and water solution
When it comes to fighting coronavirus, you can still rely on good old bleach with proper usage. According to the Centers for Disease Control (CDC), unexpired bleach properly diluted with water can be effective against coronavirus. Here's what you need to know:
Use bleach containing 5.25–8.25% sodium hypochlorite.
Check the expiration date on the bleach bottle – it must not be expired. Bleach generally expires within a year of purchase.
Read and follow the manufacturer's application instructions for the surface; make sure the bleach solution is in contact with the surface for at least one minute.
Make sure the area is well-ventilated.
Never mix bleach with ammonia or other household cleaners – this can cause a toxic gas that is dangerous when inhaled.
The bleach solution is effective when used within 24 hours. If you don't use it, you will need to mix another batch.
How to make a bleach solution according to the CDC:
To make a gallon of bleach cleaning solution: Mix 5 tablespoons (1/3rd cup) of 5.25–8.25% bleach with one gallon of room temperature water
To make one quart (or four cups) of bleach cleaning solution: Mix four teaspoons of 5.25–8.25% bleach with one quart of room temperature water
Commercial cleaners
There are so many cleaners available but it is hard to tell which cleaners kill coronavirus. Recently, I read on the news that Pine Sol Original Multi-purpose cleaner has been found to be effective against the coronavirus. According to The Clorox Company, the manufacturer of Pine-Sol,
The product can also be found in the EPA (Environmental Protection Agency) List N: Disinfectants for Use Against SARS-CoV-2 (COVID-19). However, it's not listed as "Pine Sol." If you check their EPA registration number for the product is 5813-101. It is listed under the product name Tuck 3 on the EPA's list, according to Good Housekeeping.
How to tell if a cleaner is in the EPA's list of disinfectants
1. First, check the product label of the cleaner and find the registration number.
Look for "EPA Reg. No." Your will find two or three sets of numbers. If the product's registration number has two parts (ex. 1234-12), it has a primary registration number.
2. Go to the EPA website. There is a space where you can type in the registration number, then hit enter.
If the number is on the list, the product is qualified for use against SARS-CoV-2 (COVID-19).
Here is a screen shot of the label of my Lysol Spray.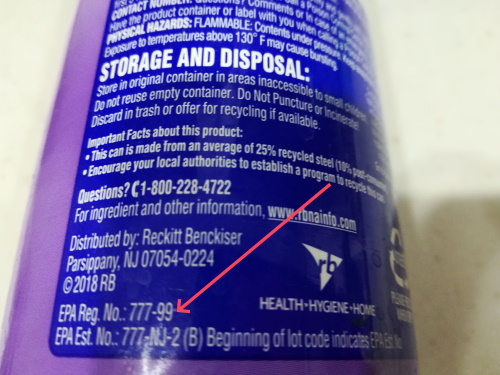 I typed in the EPA Registration number and found this: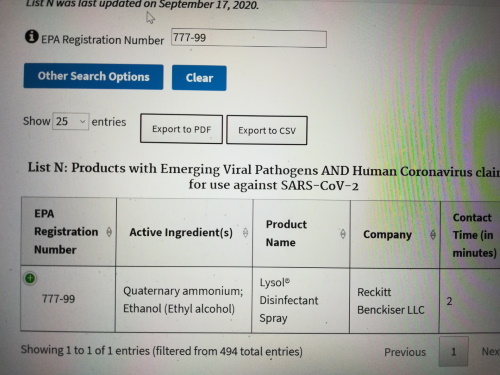 The EPA chart tells us how long the cleaner should be in contact with the surface before wiping off.
When using the disinfectant, remember the following:
Pre-clean the surface with soap and water if the area is very dirty.
Follow manufacturer's directions on the bottle regarding usage and contact time on the surface.
If you wear disposable gloves, discard after use. If the gloves are for multiple use, designate one just for cleaning for COVID-19, according to the EPA. Wash your hands after removing the gloves.
Keep all cleaners away from the reach of children.
Finally, remember, these products are for use on surfaces, NOT humans.
Bookmark the EPA website "List N" so you can refer to it when shopping for cleaners.
Some of the cleaners I purchased from dollar stores do not show an EPA Registration number. I tried checking their websites but was not able to find one. If I do find a way to check them, I will post it on the blog.
---
We are an affiliate of Amazon.com, which means we received a small commission if you click through one of our Amazon links when you shop, at totally no cost to you. This helps keep the lights on at the blog. Thanks!
About the author:
Bernie Carr is the founder of Apartment Prepper. She has written several books including the best-selling Prepper's Pocket Guide, Jake and Miller's Big Adventure, The Penny-Pinching Prepper and How to Prepare for Most Emergencies on a $50 a Month Budget. Her work appears in sites such as the Allstate Blog and Clark.com, as well as print magazines such as Backwoods Survival Guide and Prepper Survival Guide. She has been featured in national publications such as Fox Business and Popular Mechanics. Learn more about Bernie here.