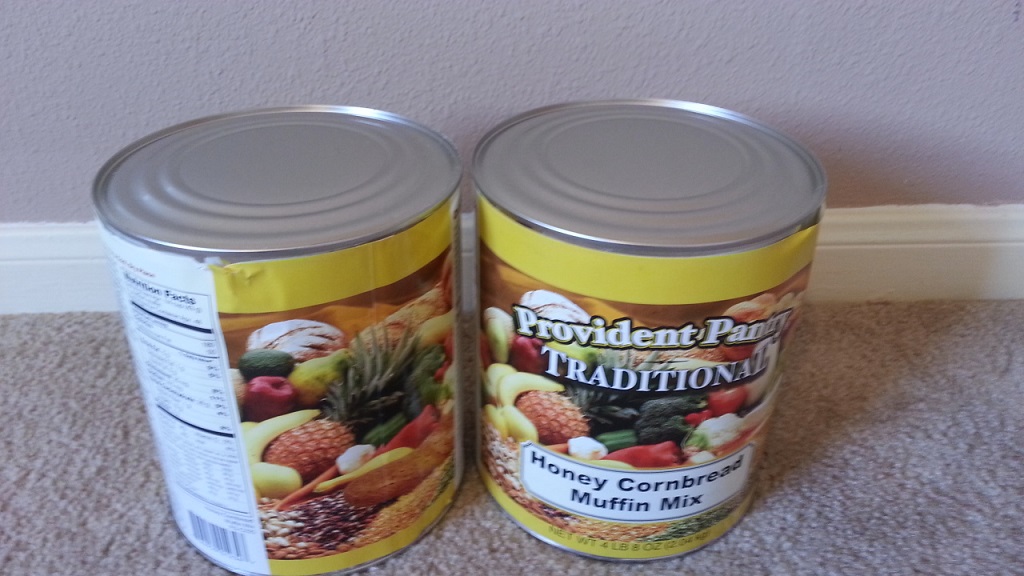 This post is by Bernie Carr, apartmentprepper.com
We were moving our food storage around to make room for supplies when we noticed these two cans of Emergency Essentials Provident Pantry Honey Cornbread Muffin Mix were looking odd.  The top and bottom of the cans had lifted and were puffy.  There are no dents in the cans.
I immediately called the 800 number posted on the Emergency Essentials website to find out what could cause this.  I have bought a lot of their products over the years and every one of them turned out great.  Before signing on as an affiliate, I taste tested their products and found them to be of great quality.  According to their website, they provide some guarantees:
30-Day Unconditional Satisfaction Guarantee
We want you to be happy with our products. If within 30 days anything in your purchase from us fails to meet your expectations, please call us. We will make it right with you!
One Year Warranty
All of our products carry a one-year warranty from the day of delivery on defects in material and workmanship. Many products have a manufacturer's warranty to cover them; please call us to determine how to take advantage of these warranties when needed. If you need to return a product, please call us for a return authorization number.
Return Policy
You can return any product for any reason within 30 days. An RMA (Return Authorization Number) is required before you ship product back to us. Please call us at 1-800-999-1863.
In this case, I had bought these cans about 12-16 months ago, and therefore they are no longer covered by their posted guarantees.
What caused the puffiness?
I described the appearance of the cans to the customer service rep.  I told her they were stored indoors at 73 degrees.
She said the cans puff up on some baking mixes if the can is exposed to a temperature change.  A change in temperature will cause the leavening agent to be activated, causing the cans to puff up.
She said the product is still edible but must be used within 12 months of the product puffing up.
The issue I have about this is, I do not know exactly when the cans puffed up.  Even though I rotate through my storage, I do not check these cans on a regular basis, so I have no way of knowing if they have been like that for 12 months or more.
I told her that puffy cans make me worry about botulism.  She said the mixes do not have any moisture and therefore have no risk of botulism.
But she did mention that you must be careful when you open the can, as it can potentially explode.  She said the cans they tested did spill all over the floor, but the cooked product tasted fine.  (I think it's a good thing they test these products, however it does not give me confidence about opening these cans.  My family has indicated they will not eat these.)
What the company offered
I asked her if I can return these cans for a free replacement.  I was not asking for a refund, as I still wanted to have these for long term storage and had not intended to open them anytime soon.  She said I should use these up, and the only thing the company does to remedy this is to give a 50% off discount the next time I place an order for a baking mix.  FYI, each can is currently priced at $12.75.
While we continued to have a cordial chat, I told her I was not satisfied with their resolution of this issue.  I also mentioned I am obligated to share this with my readers, as I write about food storage issues.  To be fair, the items are beyond the guarantee period.  However, these products are intended for long term storage and something like cans lifting up will make people wonder whether they are still safe to eat.  The label indicates "Store in a cool, dry place" which I have done.  If the leavening agent could potentially activate causing the cans to lift, perhaps the label should have mentioned it.
I will follow up with Emergency Essentials again and see if they might improve their response to this issue.
Editor's Note:  This issue has been resolved to our satisfaction — see the story here.
© Apartment Prepper 2013