This post is by Bernie Carr, apartmentprepper.com
I caught a few episodes of Extreme Couponing on TLC and have to admit I am fascinated.   Although there has been some criticism of some of the featured measures that go the "extreme,"  this could be a way to save money or to start an emergency stockpile.   If done in moderation, and never to the point of obsession, I can see how using coupons, combining deals and taking advantage of store sales could really help.   I do not advocate  dishonest measures, missing out on important family events or rude treatment of cashiers as occasionally shown on the show.   We all know reality shows are built around various cut scenes so one never knows the full extent of the truth, and some of these over-the-top antics are done for shock value or ratings.
How to get started
If you are doing this to start your emergency food stockpile, getting started involves a few extra steps from a prepper's perspective.
Get organized.  Designate a space in your home where you will be storing your emergency supplies.  If you need to get rid of stuff to make room, now is the time to do it.
Make a list of items you use daily.  You do not need to buy things no one in your household wants or uses, unless you a buying specifically to donate it.
Set up an email address just for coupons and store sign-ups.
Decide ahead of time how much privacy you are willing to give up for deals.  Many store savings site require a mobile phone so you can download an app such as Retail Me Not.
Set aside time that you will devote to this new hobby.
Start small and don't go overboard all at once, such as spending money upfront.  I know someone who jumped right in, bought a new laser printer, a bunch of supplies such as binders, boxes of plastic sheet protectors, highlighters etc.  After a month, she decided she did not like it and all those supplies were wasted.
Don't forget discount sources you may already have access to, such as AAA, AARP or other similar organization, employee discounts at your job, credit card cash back offers, bank and credit unions.
Basic Emergency Needs
Focus your couponing efforts on these areas to  build your emergency stockpile.  If you are just getting started, here are a few ideas of items you might find coupons for:
Water:  bottled water, juices – canned or bottled, energy drinks, powdered drink mixes etc
Food:  canned fruits and vegetables, canned fish, canned meats, soups, dried or dehydrated food, boxed meals, just add water meals and other easy to prepare meals
Lighting/cooking:  Batteries, flashlights, candles, matches, charcoal briquettes
First aid:  pain relievers, adhesive bandages, allergy medicines, anti-diarrhea, eye drops,
Hygiene:  toilet paper, feminine products, soap, dish soap, laundry detergent, bleach, gloves, trash bags
Couponing Tips
I found some good ideas from these websites:
Here's How to Start Extreme Couponing Without Getting Overwhelmed
How to Start Couponing for Beginners:  2017 Guide 
All in all I think if it helps people get in the habit of stockpiling, whether to save money,  prepare for emergencies, donate to charity of all of the above, if kept within reason, then I see nothing wrong with it.
© Apartment Prepper 2017
For more tips on prepping on small budget, read my latest book: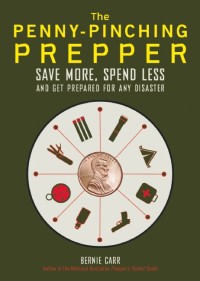 Try Prime for free