This post is by Bernie Carr, apartmentprepper.com
Fifteen years ago on 9/11/01, the world as we knew it, changed for our nation.  Everyone can remember exactly where they were and what they were doing when they got the news.  Now we worry about dark and dangerous things that we previously thought could never happen in our own country.  Because no one foresaw the attacks on September 11, the 9/11 Commission Report deemed it as a "failure of imagination."
Today we are reviewing a book about such events:  Failures of Imagination: The Deadliest Threats to Our Homeland—and How to Thwart Them by the Chairman of the Homeland Security Committee, Michael McCaul. 
What is the book about?
Failures of Imagination: The Deadliest Threats to Our Homeland outlines eight plausible terrorist scenarios, written from varying views:  the attackers, where they came from, their reasons and objectives; the victims and how they happen to be in that situation, the damage assessment and a discussion of "could this happen here."
Here are some examples of the chapters:
UNFINISHED BUSINESS: A Decapitation Strike at the U.S. Capitol
THE THREAT WE CAN'T SEE: Bioterror in the Magic Kingdom
BLACK FRIDAY: Massacre at the Mall of America
NORTH ATLANTIC STORM: Russia Launches a New Cold War
GOING DARK: Cyberstrike on the World's Financial Capital
What I thought of the book
Each section is quite riveting.  I found the bioterror in the Magic Kingdom quite disturbing.  I have visited the Magic Kingdom with the family not too long ago.  Having seen the park makes the story seem "too close for comfort."  While there is tight security going in, the book describes how the attack was accomplished and the results.  Each chapter is a page turner and made even more frightening by the plausibility.
The author proposes solutions to these threats and a call to action to thwart them.
I thought the book was well thought out and well written.  I enjoyed the fast paced stories but found myself worrying about them at night.  It is a good book to read and increase your awareness of threats to our security.  At the same time, there is hope that they are preventable.  The challenge is for our leaders to think imaginatively and creatively so that they can predict and prevent one from happening.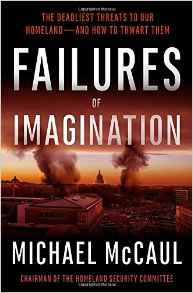 © Apartment Prepper 2016
Disclosure: This is a professional review site that sometimes receives free merchandise from the companies whose products we review and recommend. We are independently owned and the opinions expressed here are our own. Apartmentprepper.com is a participant in the Amazon Services LLC Associates Program, an affiliate advertising program designed to provide a means for sites to earn advertising fees by advertising and linking to Amazon.com