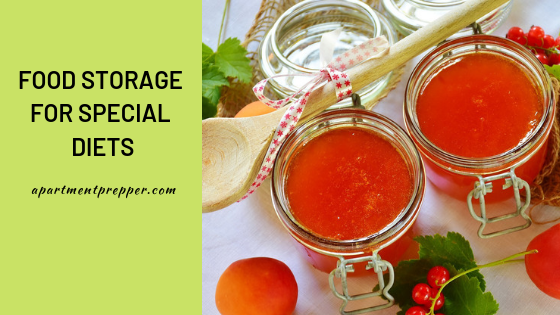 A lot of readers wonder how to store foods when someone in the family is on a special diet. Diabetes and high blood pressure are common conditioners that cause restrictions on food choices. People with food allergies also have to be selective on food. "Store what you eat and eat what you store" is something we all need to remember when choosing emergency foods to stock up.
This podcast from James Walton who runs Prepperbroadcasting.com and has guest posted on Apartment Prepper, has great tips on food storage for special diets. This is the first time we are linking to a podcast – just click on the large yellow button to start the podcast and listen in.
Storing Food for Specific Diets
Between allergies and ailments there are a million reasons to be more strategic food storage these days. On this episode Morgan goes into great detail about the benefits of storing food for specific diets.
Is anyone in your family on a special diet?  How has this changed your food storage methods?  Please share in the comments.
About the Author
James Walton is the host of I AM Liberty a podcast that airs on www.prepperbroadcasting.com. He is also the author of Come Unity, Community a book about neighbors and prepared communities.