My grandmother got me interested in gardening at a very young age.  She grew a flower garden in front of their house, along with several fruit trees out in the backyard.  But it was my mother-in-law who taught me all about growing herbs and vegetables.   The only difference is, both had a big backyard to work with.  I would like my kids to have some hands on experience gardening as well, even though we live in an apartment and do our gardening in the balcony.
They've seen me working in the balcony garden but I thought it would be fun for them to grow their own.  Instead of toys, I included seed starters in their Easter basket.  These were from Target's bargain aisle, in the seasonal item section for $1 each.  They came with the cute little pot, a soil pellet that expands when you add water and a packet of seeds.  I know you could do it with seeds, dirt and a plastic cup, but for $1, it was worth seeing their excitement.
Here's what a unopened one looks like: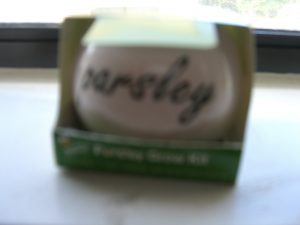 Here's what they look like after a week of sprouting: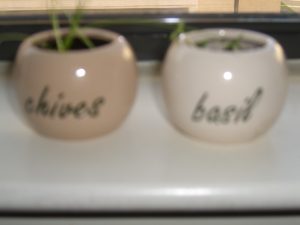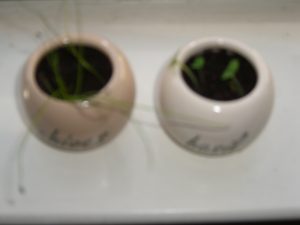 The next bit of fun will come when they see me actually use the herbs that they grew with their own hands for cooking.