This post is by Bernie Carr, apartmentprepper.com
I am always aware of the threat of fire, especially in an apartment complex.  And you already know about the close call we had last week.  With the recent wildfires in Northern California, fire danger is something we all must consider our emergency preparedness efforts.    With this in mind, I thought it would be a good opportunity to review a Fire Escape Kit from Go-Time Gear.
The Fire Escape Kit (pictured above) comes in a handy, portable size, that you can stash in any drawer or under furniture.
What's included?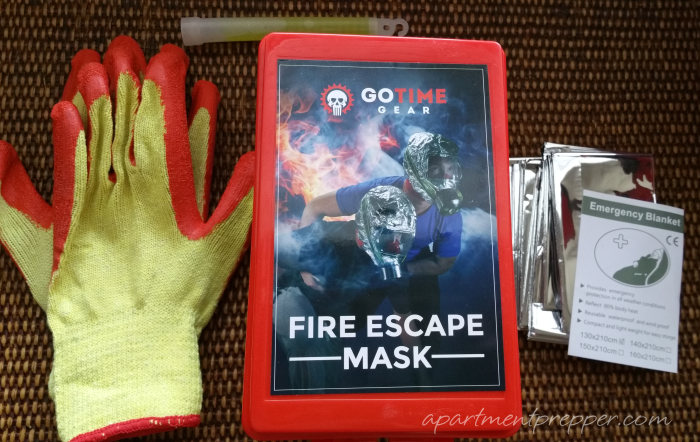 The kit includes everything you'd need to quickly escape a fire.  It comes with:
heat resistant gloves – to help you open heated door knobs
fire escape mask – so you can avoid smoke inhalation
mylar blankets – to protect your skin
light stick – to light your way
First, I examined the mask.  It comes in a shrink wrapped package.  I verified that all of the packages have a notch in shrink wrap so the user can quickly tear open the package for quick deployment in a fire.  It also has an expiration date.  I asked the co-founder the following:
Why do they have expiration dates, is it the filter that degrades?   Are they safe to use after?
There is an expiration date because the filter and mask have a five year life from the date of manufacture when unopened in the original shrink wrapping.  Our customers can expect a minimum of 4.5 year shelf-life.  While they aren't necessarily unsafe to use after expiration, the filter may no longer be effective.
Trying out the mask and gloves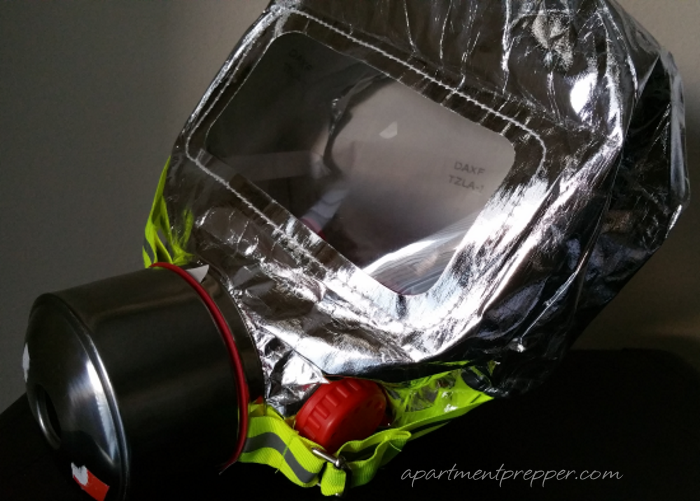 Now it's time to try the mask.  Before putting it on you need to pull an outside tab, and an inside tab to allow you to breath.  You should also widen the opening before fitting it over your head.   On the first breath I took, I smelled plastic, presumably because it was previously sealed.  However, I did not experience this after the first deep breath.   To avoid this, it's better to do an exhale to drive out any plastic smell.
To test whether the filter works, I started roasting a large batch coffee beans.  Long time readers know I make coffee off grid, using a cast iron pan on a propane stove.  It gets very, very smoky.  I can attest the mask filtered out all smells even as I stood over the roasting beans.  I then used the heat resistant gloves to grab the heated cast iron pot.  I did feel some warmth but there was enough protection for my hands.   The gloves would allow you to quickly open door knobs, or push heated objects away, but it is NOT for long term use, nor would I use it as oven mitts.  The kit is designated as a one use item, and that is what it's intended for:  allow you to escape a fire as safely as the situation allows.
Fire Escape Kits and Masks are only available at https://www.gotimegear.com/
This is a popular item and has been selling out these past few months due to high demand after the recent wildfires.  They have now restocked.
The Giveaway
One lucky winner will be chosen to receive four Fire Escape kits, provided by Go Time Gear:
The giveaway starts today 11/9/2017, and ends at midnight 11/17/2017.   Winner will be contacted via email, and must respond within 48 hours of the email notice.  You have lots of chances to win.
© Apartment Prepper 2017
Disclosure: This is a professional review site that sometimes receives free merchandise from the companies whose products we review and recommend. We are independently owned and the opinions expressed here are our own. Apartmentprepper.com is a participant in the Amazon Services LLC Associates Program, an affiliate advertising program designed to provide a means for sites to earn advertising fees by advertising and linking to Amazon.com
Try Prime for free

For tips on prepping on small budget, read my latest book: