This post is by Bernie Carr, apartmentprepper.com
]I've been hearing a lot about CBD oil lately. I try to avoid taking a lot of medications including pain relievers, but I do take vitamins and supplements. When I got an invitation to try CBD oil from Daddy Burt Hemp Company in Arkansas, I was curious but also hesitant, since I did not know too much about it. I wondered if CBD is truly effective, or merely the current fad "cure-all of the month."
So I did research… lots of lots of research. I should make it clear I am not a medical professional, just an interested consumer and writer so I can share this information with my readers.
What is CBD?
CBD stands for Cannabidiol. It is derived from the hemp plant, cannabis sativa.  CBD is extracted from the flowers, leaves, and stalks of the hemp plant, while hemp oil comes from the seeds.  This is actually one of the things that's confusing to a lot of people. As of this writing, if you search for CBD oil as of this writing on Amazon, you will get links to hemp oil, but that is not the same as CBD oil.  On the other hand, I should mention that hemp oil CAN be used as a carrier oil for CBD.  Various places use different carrier oils such as coconut oil, avocado oil etc.

Types of CBD oil
Daddy Burt Hemp Co. offers both CBD isolate products and full spectrum CBD oils.
Full spectrum CBD
Full spectrum products include all the natural cannabinoids found in the whole plant (including THC, CBN, CBG, and more). THC, which stands for tetrahydrocannabinol is the substance that produces the "high." There are trace amounts of THC in full spectrum products, but not enough to get you high.

CBD isolate
CBD isolate is a pure form of CBD without the other plant compounds. For this trial, I tried the THC-free CBD oil.
What to consider when buying CBD oil
There have been a lot of CBD sellers cropping up (pun intended). CBD is currently not regulated by the FDA so I wondered how do you find a good source for CBD oil. A few questions to ask are:
Is company is certified by the U.S Hemp Authority?
The U.S. Hemp Authority is the industry's independent organization for establishing and enforcing safety and quality standards.  At this time, they have certified 22 companies as leaders in processing and manufacturing quality CBD and hemp products.
Daddy Burt Hemp Co. is certified by the U.S. Hemp Authority.
Does the company publish independent test results?
Daddy Burt Hemp Co. offers independent testing results (also known as certificates of analysis or COA). This document shows the concentration of CBD and THC in the product sample as well any contaminants.
Daddy Burt Hemp Co. publishes their COA testing results on each product page and they are downloadable.
How is the CBD extracted & processed?
Some processes can leave toxins or contaminants that affect the quality of CBD products. Before picking your CBD product, find out if the company explains how their CBD is extracted and processed. Daddy Burt Hemp Co.'s has developed a full Plant-To-Product™ Quality System that ensures their products are the highest quality and tracked throughout the entire process from planting to CO2 extraction to formulation to testing to bottling, and until it gets to the customer.
What are the goals of this trial?
First, I'd like to clarify that this review is not compensated; I received the review sample for trial and there was no influence on the results whatsoever.
I know that there are a lot of claims on the benefits of CBD oil, including relief from:
Anxiety
Pain
Insomnia
Migraine headache
It's also said to alleviate the side effects of chemotherapy such as nausea and vomiting.
In my case, I have some chronic arm pain near my left elbow, as well as stress, anxiety and insomnia that affects several nights a week.  I wanted to try CBD and see if it works on these conditions.
Trying it out
The product I tried was Standard Strength CBD Oil – THC FREE in the Peppermint flavor. It's a 30-day supply of 25mg of CBD/day.  There is really no set dosage for taking CBD oil, it depends on whether you feel the desired benefit.
For this particular bottle, the "normal" amount is one dropper per day for 30 days. Since I was starting slow, I just took  1/4 of a dropper (.25 in the photo below).
I liked the dropper the comes with this product as it has units of measure.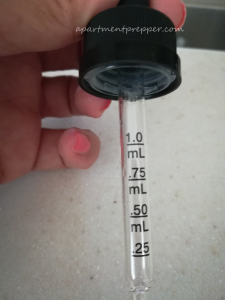 Mr. Apartment Prepper tried it as well. We both only took .25 so there was enough for us both.
The instructions specify the method of taking it is sublingual – place the drops under the tongue and hold it for a minute. This certainly felt new to us. Eventually we got used to it.
Taste
The peppermint flavor in the one I tried had a clean and pleasant taste. It's also available in Natural flavor, which is plain oil.
Results
After close to a month of trying it out, I can tell you the results.
Pain relief
I felt the pain in my arm diminished greatly after taking CBD oil. It's not completely gone, but I can say it has lessened considerably at just 1/4 of the usual dosage.
Headache reliever
Mr. Apartment Prepper took it when he had a bad headache one day. After about an hour, the headache was gone.
Relaxed muscles
One day he had a strenuous day of walking and being on his feet all day. He expected to have sore legs and feet the next day.  He was surprised he did not feel any muscle pain at all; the muscles actually felt relaxed.
Improved sleep
My sleep problems occur when something wakes me up such as any type of noise or if I had to go to the restroom in the middle of the night. I have trouble falling back to sleep.  Then I am completely awake for hours, as sleep continues to elude me. Sometimes I stay awake long enough that it's time to get up in the morning.
When I started taking the CBD oil, I started getting a full night's sleep. Some nights I had uninterrupted sleep for a full seven hours. After having insomnia for several months, I can really appreciate the benefit of a good night's sleep.
Feeling of well-being
I have mild anxiety and stress. When I started taking Daddy Burt Hemp Co CBD oil, I did get an overall feeling of well-being.
I feel my results were better than expected. Relief from insomnia is one of the top reasons I would continue to use CBD oil.
Daddy Burt Hemp Company is a trusted name that is certified by the U.S. Hemp Authority and they freely publish lab testing information. They stand by their products and even offer a 30-day money back guarantee. You can contact them directly with any questions by various methods:  call them directly at (859) 447-6806, online, or stop by their office in Lexington, KY.
Overall, I am happy with the results and would recommend Daddy Burt Hemp Company products to anyone wanting to use CBD oil.
If you found value in the article, please help us keep this site free by supporting Apartment Prepper on Patreon. Click here: https://www.patreon.com/apartmentprepper No worries if you are not able to, I'll still keep writing!