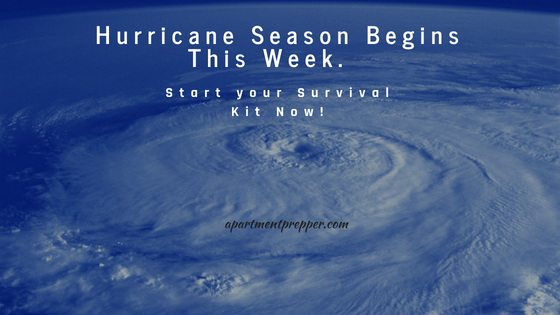 This post is by Bernie Carr, apartmentprepper.com
Enduring last years' hurricane is still fresh in my mind but a new season is already upon us.  Hurricane season starts this Friday (June 1 – November 30).  As I write this, the first named storm of the 2018 season has already formed.  The National Oceanic and Atmospheric Administration is predicting there is a possibility it will be an active season.  
Last year was certainly an active one.  We still have people who lost everything during Hurricane Harvey moving into our apartment building.  So many people in our neighborhood had their homes flooded that ever since the hurricane, our apartment complex has had no vacancies and now has a waiting list of tenants.
If you live in a hurricane-prone area, now is the time to start your survival kit.  Going shopping the day before a hurricane is expected can be a nightmare which you'll want to avoid.
You have a couple of options:  make your own OR buy a pre-assembled survival kit.  You also need to decide how much money and how much time you want to spend.
Factors to consider:
Number of people in your household
Number of days you are covering
Type of emergency
Purpose of the kit – home emergency, car emergency etc.
Whatever kit you choose, there will be some crossover – some of the same items would be useful regardless what type of disaster- power outage, hurricane, earthquake, flood etc.
What to include in your 72-hour kit
Food – Include food that does not need a lot of effort to prepare:  energy bars, canned food, "just add water" meals (dehydrated or freeze dried foods), crackers,  etc.  Include some comfort food such as chocolate, cand, and chips.  Don't forget the manual can opener!  Keep a mini one on your keychain just in case.
Water – One gallon per person per day is the guideline
First aid – in addition to the basic first aid contents, include personal prescriptions, eyeglasses, contact lenses etc.  It is also a good idea to include a pocket first aid manual.
Communications – battery operated or crank weather radio, charged cell phone, extra phone chargers
Personal hygiene – toilet paper, trash bags, moist towelettes
Lighting, Fire and warmth – flashlights, propane or other alternate fuel stove, candles
Basic tools such as knife, multi-tool, wrench, and pliers.
Entertainment – books, board games, cards
You'll also need to include other miscellaneous items such as stuffed animals for children, special needs, pet food, and medicines etc.  While you're in the planning mode, device a plan on what you will do if you need to evacuate the area.  During a major hurricane, sudden flooding can occur even in areas that are not in a known flood zone.
If you decide to buy a prepackaged survival kit, go through the contents as soon as you receive it, so you know what you have stored up.  Whether you are buying or assembling your kit yourself, now is the time to get started.
© Apartment Prepper 2018
For more tips on prepping on a small budget, read my latest book: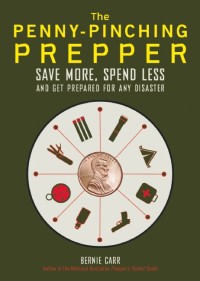 Please click here to vote for me at Top Prepper Websites!