This post is by Bernie Carr, apartmentprepper.com
I followed instructions given in the Non Electric Lighting series, on how to make this vegetable oil lamp.  What got me interested in trying this out was, all the materials are items most people have readily available at home.
Materials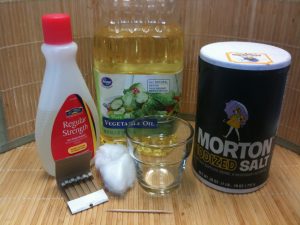 Materials:
Vegetable oil
Baby food jar or votive candle jar (I got mine from Goodwill)
Table salt
wooden toothpick
cotton (must be 100% cotton, not a blend)
nail polish remover
matches
Directions:
1.  Fill the jar with table salt.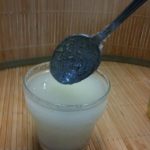 2.  Add vegetable oil and mix well with the salt.  Let it settle down.
3.  Add a bit more vegetable oil after it settles.
4.  Wrap a wooden toothpick with the cotton from end to end.  Do not skimp on cotton but don't make it too thick either.
5.  Stick the cotton wrapped toothpick in the vegetable oil/sand mixture.  If it is too tall for the jar, snip the end until the tip is level with the mouth of the jar.
6.  Drop a tiny amount of nail polish remover on the tip of the cotton wrapped toothpick.  Take care not to spill into the vegetable oil.
7.  Light the tip.
You're done!  This homemade lamp will burn for about two hours.
Trouble shooting tips
When I first made the lamp, the flame kept sputtering and burned out quickly.  I contacted the author, Ron Brown to inquire about what I might be doing wrong.  He suggested the following:
The toothpick must be well wrapped with cotton
Use only 100% cotton.
On my first attempt I had used  recycled cotton from a pill bottle which may not have been 100% cotton.  The next time, I made sure it was 100% cotton.  I also had not wrapped the toothpick well enough and had a few gaps that weren't covered with cotton.  This time around, I wrapped the toothpick until it was completely covered with cotton, but not overly thick.  Sure enough, it worked very well.
This experience showed me that even though you have instructions on how to do something, there are unforeseen variables that may hamper your success.  You need to test your knowledge and practice your preparedness skills.  The time to practice new skills is now —  not when an emergency is in full swing and the power is already out.
(Note:  Apartment Prepper is not affiliated with Lanterns Lamps and Candles – I read the book series and found it to be a great resource.  My thanks to author Ron Brown for taking the time to suggest some fixes with my experiment.)
*********************************************************************************************
We are an affiliate of Amazon.com, which means we received a small commission if you click through one of our Amazon links when you shop, at totally no cost to you. This helps keep the lights on at the blog. Thanks!


Give the gift of prime:

About the author:
Bernie Carr is the founder of Apartment Prepper. She has written several books including the best-selling Prepper's Pocket Guide, Jake and Miller's Big Adventure, The Penny-Pinching Prepper and How to Prepare for Most Emergencies on a $50 a Month Budget. Her work appears in sites such as the Allstate Blog and Clark.com, as well as print magazines such as Backwoods Survival Guide and Prepper Survival Guide. She has been featured in national publications such as Fox Business and Popular Mechanics. Learn more about Bernie here.