Written by Bernie Carr
If you have condense milk in your food storage, here is a delicious way to use it: dulce de leche. It is a frugal but fabulous dessert.
What is dulce de leche?
Dulce de leche is literally "candy milk" in Spanish. It's like caramel but not as sticky. It originated in Latin America and is also known as "cajeta." Basically, it's sweetened milk that has been heated until caramelization has occurred. You can buy it pre-made, but it is so much better homemade.
Dulce de leche is a creamy, comforting dessert: eaten plain, as a spread on bread or crackers, or as a caramel dip for apples (Granny Smith is my favorite).
Directions
I'll tell you exactly what I did. Follow the directions closely to avoid any problems with heating up a can.
Ingredients
Can of condense milk – I like Borden's
Water
Equipment
-a pot that is deep enough to hold the can submerged in water.
– pair of kitchen thongs
Directions
Remove the label from the can of condense milk.  Place the can in a pot of water, making sure it is completely submerged.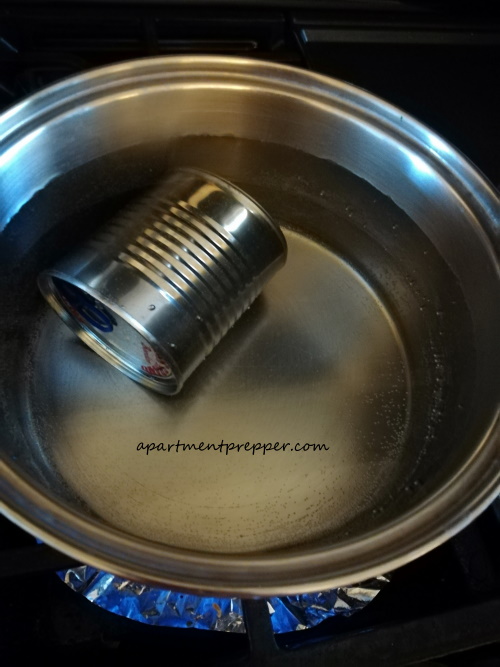 Heat the pan over medium heat.  Do not cover. As soon as it boils, lower the heat to low, so it's just simmering.
Do not let the pot get too hot ! Just keep it at a slow simmer so you avoid any issues.
IMPORTANT TIP: Watch the pot to make sure the can is always covered with water – DO NOT let the water level go below the can. If the water dries up, the can can explode so keep watching the water level.
Pictured below: Keep adding water as soon as the water level goes down.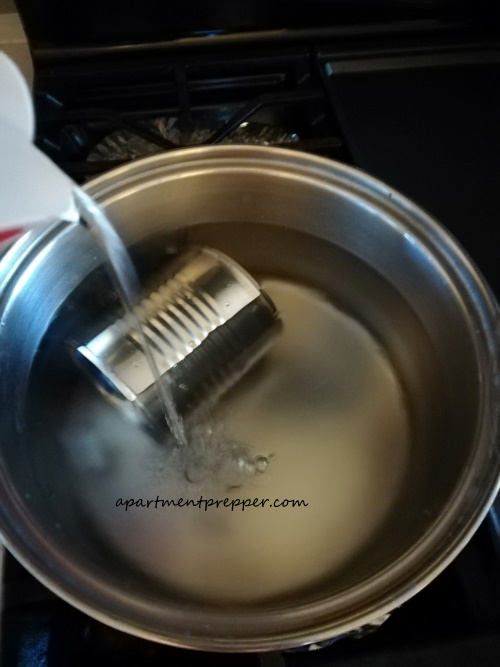 Simmer for at least two hours (You can simmer up to three hours if you want a darker shade of caramel, but I like it at about two hours.)  Turn off the heat. Allow the pot with the can to cool completely.
When the pot is at room temperature, take out the can and open it. Stir it with a spoon. Transfer the dulce de leche into a seal-able container such as a Mason jar or and refrigerate.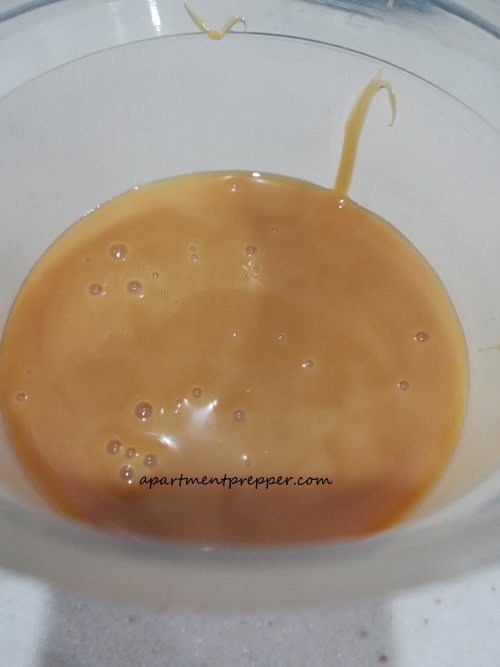 Shelf life
Dulce de leche will last for a month in the refrigerator. But it's so good that it gets eaten up within a week in our household!
That's it!
---
We are an affiliate of Amazon.com, which means we received a small commission if you click through one of our Amazon links when you shop, at totally no cost to you. This helps keep the lights on at the blog. Thanks!
About the author:
Bernie Carr is the founder of Apartment Prepper. She has written several books including the best-selling Prepper's Pocket Guide, Jake and Miller's Big Adventure, The Penny-Pinching Prepper and How to Prepare for Most Emergencies on a $50 a Month Budget. Her work appears in sites such as the Allstate Blog and Clark.com, as well as print magazines such as Backwoods Survival Guide and Prepper Survival Guide. She has been featured in national publications such as Fox Business and Popular Mechanics. Learn more about Bernie here.