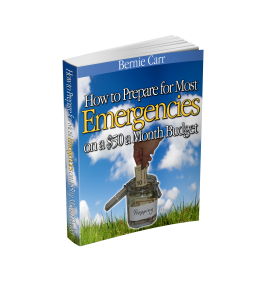 Today I am happy to announce the release of my new e-book, "How to Prepare for Most Emergencies on a $50 a Month Budget."  It is available now on Amazon.
For Beginning Preppers
Since starting Apartment Prepper a couple of years ago, I've received numerous emails from readers who are interested in preparing for disasters but have very little by way of income.  Some have just lost their jobs or depend on public assistance, and have families to support.  The e-book is for people who just started to feel the need to prepare but don't know what to do first.
You do not need to own a Kindle to be able to read the book.  If you download the free Kindle app, you can read it on your computer.  The e-book is $2.99 on Amazon.  I hope you will find some helpful tips.