This post is by Bernie Carr, apartmentprepper.com
The 2020 hurricane season officially starts today, June 1st and runs until November 30th.  This year presents additional challenges as the hurricane season comes while the coronavirus pandemic is rampant.
Prediction for hurricane season 2020
The National Oceanic and Atmospheric Administration (NOAA) predicts a higher than average hurricane season:
13 to 19 named storms (winds of 39 mph or higher), of which 6 to 10 could become hurricanes (winds of 74 mph or higher), including 3 to 6 major hurricanes (category 3, 4 or 5; with winds of 111 mph or higher).
NOAA predicts this with a confidence level of 70%.
To put it in perspective, according to the NOAA, an average hurricane season produces 12 named storms; six become hurricanes, including three major hurricanes.  This years predicted numbers are certainly higher.
The following graphic (from NOAA) shows the probability of storms: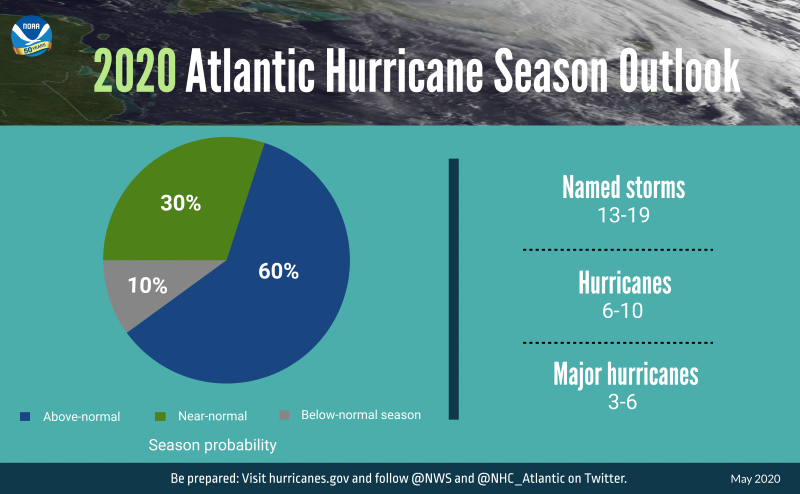 Preparing for hurricane season in a pandemic
Everyone's attention has been occupied by the pandemic as things are just starting to reopen. But the 2020 hurricane season is already upon us. Two named storms have already developed, before the season even officially started.
Hopefully you already have some supplies set aside and just need to top off or replace any items that have been used up.
Give yourself enough time to get supplies.  Stores have started to have more inventory, but if a hurricane is approaching, shelves will quickly get cleaned out. If you have to order online, do it now.
Make sure you have extra masks and hand sanitizers set aside, in case you have to evacuate your home.
Order your prescriptions in advance or sign up for mail order service to order prescriptions.
While sheltering in place would be ideal, if you are in the direct path of a hurricane you will have to evacuate your home.
Plan your evacuation route just in case.
In many areas, shelters will only allow 50% capacity so make sure you have alternate choices.
Dont' forget your pets. Order emergency supplies for them as well, and make a plan as some shelters do not allow pets.
The CDC reminds us that social distancing (staying at least 6 feet, about 2 arms' length, from others) will need to be maintained when checking on friends and neighbors.
Prepare your go-bag in case you have to evacuate in a hurry.
Here is a video that has additional tips.
********************************************************************
We are an affiliate of Amazon.com, which means we received a small commission if you click through one of our Amazon links when you shop, at totally no cost to you. This helps keep the lights on at the blog. Thanks!
About the author:
Bernie Carr is the founder of Apartment Prepper. She has written several books including the best-selling Prepper's Pocket Guide, Jake and Miller's Big Adventure, The Penny-Pinching Prepper and How to Prepare for Most Emergencies on a $50 a Month Budget. Her work appears in sites such as the Allstate Blog and Clark.com, as well as print magazines such as Backwoods Survival Guide and Prepper Survival Guide. She has been featured in national publications such as Fox Business and Popular Mechanics. Learn more about Bernie here.
Image by David Mark from Pixabay