This post is by Bernie Carr, apartmentprepper.com
The 2019 hurricane season officially starts this Saturday, June 1st and runs until November 30th.  Now is the time to get ready.
What is predicted for hurricane season 2019?
The National Oceanic and Atmospheric Administration (NOAA) predicts an average or near normal hurricane season:
9 to 15 named storms (winds of 39 mph or higher), of which 4 to 8 could become hurricanes (winds of 74 mph or higher), including 2 to 4 major hurricanes (category 3, 4 or 5; with winds of 111 mph or higher).
NOAA predicts this with a confidence level of 70%.
The following graphic (from NOAA) shows the probability of storms: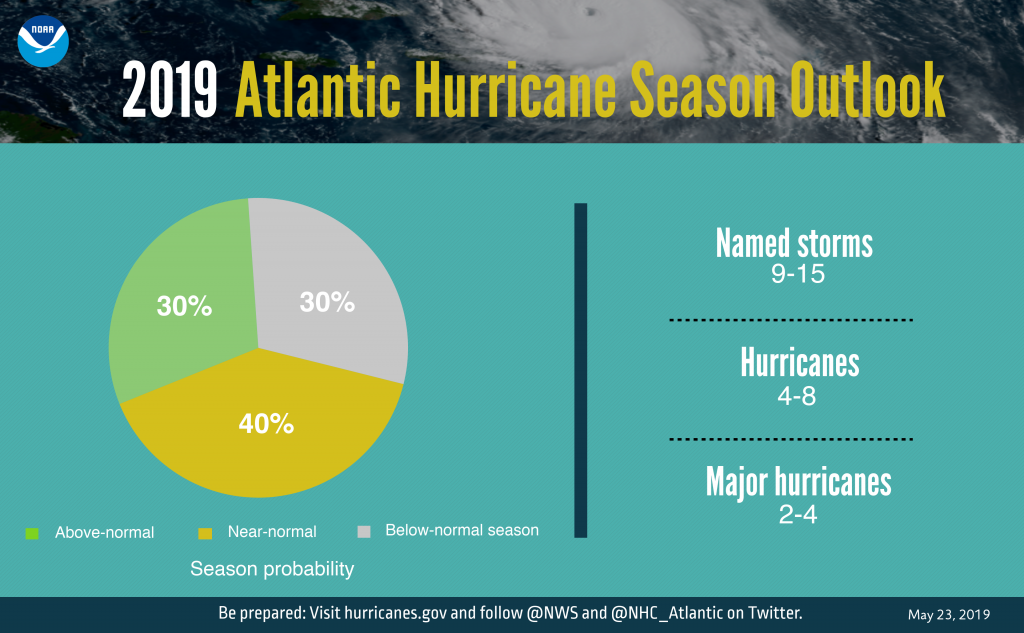 What does this mean to you?
I've seen what it's like to visit a store when a predicted hurricane is about to hit and it is not pretty. People are jostling each others' carts trying to snag the last bottle of water or pack of toilet paper if you are lucky to even find out. Gas lines form around the block and the wait to reach the pump can take hours.
If you live in hurricane prone areas, now is the time to prepare. Read this article for easy steps to get prepared.
Plan an evacuation route, in case your area is in the direct path of a hurricane.
If you already have emergency supplies, conduct an inventory.
Even if you do not live an area with hurricanes, consider your travel plans. A lot of people travel between June to August, and some destinations, such as Hawaii, Florida, the Caribbean do experience hurricanes.
About the author:
Bernie Carr is the founder of Apartment Prepper. She has written several books including the best-selling Prepper's Pocket Guide, Jake and Miller's Big Adventure, The Penny-Pinching Prepper and How to Prepare for Most Emergencies on a $50 a Month Budget. Her work appears in sites such as the Allstate Blog and Clark.com, as well as print magazines such as Backwoods Survival Guide and Prepper Survival Guide. She has been featured in national publications such as Fox Business and Popular Mechanics. Learn more about Bernie here.