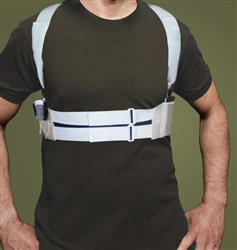 This post is by Bernie Carr, apartmentprepper.com
I received a review sample of ULTRA Model Concealed Carry Holster for Firearms from Deep Conceal, LLC.  While I personally do not have a CCW license currently, I intend to obtain one.  Mr. Apt. Prepper does have his license and I have seen him try out a lot of different holsters.   It is not easy to find out that is both comfortable and easy to reach.  There are many options:  ankle, front or back waist band, shoulder.
First, we'll cover a few details:  Selection includes right hand or left hand draw, available colors are white or black, and then you get to choose the size, from Xtra Small to 4XL and everything in between.  An FAQ section in the website shows how to measure for the correct size:  Take a tape measure around the chest at the Sternum. Inhale and then exhale – take the measurement when you are done exhaling. Note the measurement on the tape and order the corresponding holster size.  The holster is made in the USA and Deep Conceal offers free shipping in the U.S.
Now for the result:  This holster is easy to adjust and therefore very comfortable.  It also provides for easy accessibility of the weapon.  It stays in place where you want it too, without a lot of pulling or chaffing.
Mr Apt Prepper tried it out and I could not even tell he had his firearm on him.  This proves that the holster does stay concealed as it's supposed to.  He found it well-made and he recommended it to his friends who have CCW licenses.  He now prefers it more than his in the waist-band holster.
If you are looking for concealed carry holsters, visit Deep Conceal.
Disclaimer:  This review is for the concealed holster only, and does not recommend you to purchase one if you are not licensed to carry a concealed weapon.  You must be licensed in your state to carry a concealed weapon.  State laws vary, so check the laws in your state.