Written by Bernie Carr
Today is another entry in my series on what happened to me after I came down with COVID-19. Since being discharged from the hospital several weeks ago, I have to be on oxygen 24 hours a day as I recover from lung damage caused by COVID-19 pneumonia. I've asked the doctors how long does it take to regain normal lung function and get off the oxygen but they tell me everyone is different and recovery time varies.
I have searched online and am not seeing a lot of articles about being on oxygen, so I thought I'd share what it's been like for me.
Oxygen sources
While suffering from pneumonia in both lungs, I was placed on hi-flo oxygen as regular oxygen was not sufficient. I was told I would not be sent home unless I could be on regular oxygen. The respiratory therapists worked with me with twice daily breathing treatments as well how to breath through my nose and out through the mouth to get my oxygen level up. I thanked God when I was finally able to switch to regular oxygen.
Before I was discharged, I got a call from a home health supply company regarding supplying oxygen at home. The hospital had a portable tank ready for my ride home, but the tanks only last for a few hours, depending on your oxygen level needs. The nurse set it up for me.
I arranged to have the oxygen machine delivered to my home. The following items were delivered:
oxygen concentrator machine
nasal cannula, that delivers the oxygen to the nostrils
long tubing (see the green cord in the photo below) that attaches to the cannula, and the oxygen concentrator
portable oxygen tanks
The delivery staff gave instructions to me and Mr. Apt Prepper on how to operate and set up the oxygen concentrator as well as the portable oxygen tanks.
Concentrator
The oxygen concentrator is about the size of one of those small refrigerators. It does have wheels so it can be moved from room to room.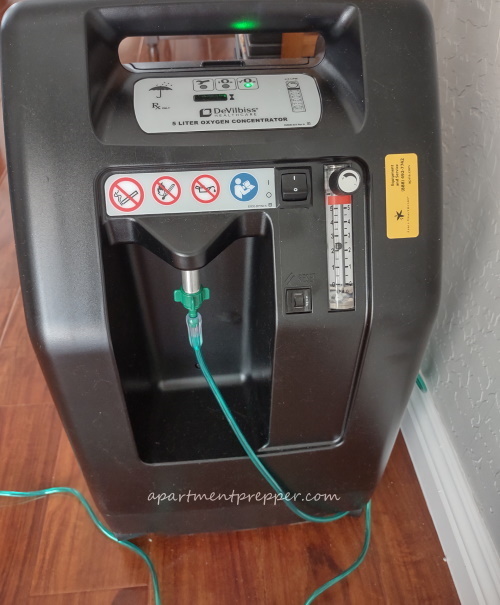 It is plugged in to an electric outlet for power. It makes a constant whirring noise so I keep it outside my bedroom door to avoid getting woken up at night. It is a good location so I can move around to get to the rest of the house.
The tubing develops loops and kinks which restrict the flow so I always have to check it to make sure it's sitting straight.
Since the tubing sits on the floor I have to warn family members at home to avoid tripping on it.
The nurse who follows up on me warned me that some cats are attracted to the oxygen machine or plastic tubing which can be a hazard as their claws can puncture the tubing. Fortunately, my cat is afraid of the noise so she stays away from it 🙂
Oxygen tank
The portable oxygen tank is the one to use when leaving the house. I used mine to see the Pulmonologist for my follow-up appointment after leaving the hospital. You always need to be mindful where the tube is especially when getting in or out of the car, putting on your seat belt, walking on the sidewalk or entering doors.

They don't last very long. During the appointment with the doctor, there was over an hour wait, plus the time with the nurse, and the doctor, plus the ride getting there and going home. With my usage, one tank lasts around three hours so it was close to empty by the time I got home. These are things one normally does not think about, at least I never did, but now that I am on oxygen, I have to pay attention to these details.
Safety
These are the warnings when using oxygen at home:
Compressed oxygen is flammable. Stay away from flames or heat sources such as candles, hot water heaters, space heaters, blow dryer, etc.
Avoid using gasoline, cleaning fluids, petroleum products anywhere near your oxygen.
Don't smoke or be around anyone who is smoking.
Avoid alcohol or drugs that cause drowsiness as these can slow down your breathing.
Oxygen containers must be kept upright. Store them away from heat sources. Follow instructions given by the home health provider.
Turn off when not in use.
Tell your power company you are on oxygen so priority will be given on restoring power in case of a power outage.
One thing I am concerned about is shortages: one of the items in short supply these days is oxygen. I also worry about power outages now that I am reliant on an oxygen machine. Before I ran out, I requested a delivery of refilled portable containers.
How does it feel?
Having the nasal cannula is not bad at all. The tube loops around the ears as the prongs fit inside the nostrils. Sometimes the tube loops around up which restricts oxygen flow, so you have to pay attention to keep it from winding around itself.
If I wear a t-shirt, I do have to take off the nasal cannula to change clothes, otherwise it'll get tangled and stuck. I just put the nasal cannula back on as soon as I have the shirt on. It's easier to wear a button up shirt that does not have to go over your head.
I normally sleep on my back, but during my hospital stay, the staff told me that sleeping on your side or stomach is better for the lungs. Sometimes I sleep on my side. One time, the cannula came off my nose, I instantly woke up and put it back on.
Sometimes my nose gets really dry from oxygen use; one of the nurses at the hospital told me this is a common side effect. I used a saline mist and that alleviated the dryness. Another recommendation is to use a humidifier to help combat dryness.
Status
It's been a couple of months since I first came down with COVID-19 pneumonia, and I am still on oxygen. Lung scarring (that looks like "ground glass") is still present. The doctor says it could take another six months for healing to occur. From what I read, the damage is reversible but it takes time:
"Lung healing in of itself can produce symptoms," Galiatsatos says. "It is similar to a leg bone breaking, needing a cast for months, and having the cast come off. No one would expect to begin to run right away with the newly-healed leg bone. As the leg strengthens and muscle re-grows, patients will experience discomfort from this healing. This is what our lungs go through, too!"

SOURCE: Panagis Galiatsatos, M.D., M.H.S.Hopkinsmedicine.org
This gives me hope that my poor lung condition is not permanent, and I will one day go back to my active self.
All in all, it's been an adjustment. This is a new experience; never have I imagined that I would one day be someone who has to rely on a machine for oxygen. But this is reality for now. I'm not complaining – when I was very ill and unable to breathe, it was sweet relief when I was given oxygen in the Emergency Room. I'm grateful to be home, I'm recovering and able to write again.
For the final article in the series, see It Happened to Me: I Got Off Supplemental Oxygen!
---
We are an affiliate of Amazon.com, which means we received a small commission if you click through one of our Amazon links when you shop, at totally no cost to you. This helps keep the lights on at the blog. Thanks!
About the author:
Bernie Carr is the founder of Apartment Prepper. She has written several books including the best-selling Prepper's Pocket Guide, Jake and Miller's Big Adventure, The Penny-Pinching Prepper and How to Prepare for Most Emergencies on a $50 a Month Budget. Her work appears in sites such as the Allstate Blog and Clark.com, as well as print magazines such as Backwoods Survival Guide and Prepper Survival Guide. She has been featured in national publications such as Fox Business and Popular Mechanics. Learn more about Bernie here.