This post is by Bernie Carr, apartmentprepper.com
I am happy to be back home after being away for a week.  Now I can proceed with my bulk food storage plans.
Last week, I posted about shopping for food staples such as rice, pasta, pinto beans, etc.  in "Survival Food Shopping"  We then bought the materials needed to package these foods for long-term storage.  These were purchased online as I could not find a local store that carries them:
—food grade five gallon buckets with lids
The following common household items will also be needed:
–iron
–flat surface such as a leveler tool or a wooden table with a cardboard liner
–permanent markers for labeling
–labels or masking tape so you can label the buckets
–empty jar
–measuring cup
Most sites I read recommended five gallon size mylar bags to fit into the buckets.  We chose one gallon bags instead for the following reasons:
One gallon bags of staples are easier to transport than five gallon bags.  Since we live in an apartment, there is always a chance we may have to bug out.  If we had to leave on foot with only the bug out bags, we would be able to carry one gallon bags of food between family members.

Since the goal is to keep the food fresh for as long as possible, if we open up the five gallon bag, we would need to use it all up.  Since we are storing in one gallon bags, they can be opened and used as needed, without affecting the rest of the batches.

If we choose to, we can share one gallon bags of food with others in need, such as family or neighbors, without compromising the rest of the bin.
Here are a few of  the materials I have collected.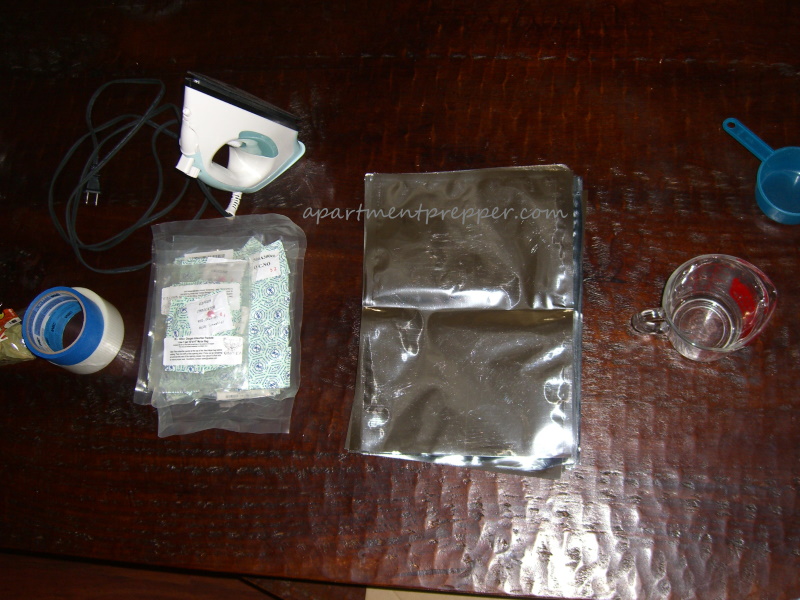 On my next post, I will go over the steps that I am doing to store the bulk food items.  Click here for the next steps.

*******************************************************************************************
We are an affiliate of Amazon.com, which means we received a small commission if you click through one of our Amazon links when you shop, at totally no cost to you. This helps keep the lights on at the blog. Thanks!
About the author:
Bernie Carr is the founder of Apartment Prepper. She has written several books including the best-selling Prepper's Pocket Guide, Jake and Miller's Big Adventure, The Penny-Pinching Prepper and How to Prepare for Most Emergencies on a $50 a Month Budget. Her work appears in sites such as the Allstate Blog and Clark.com, as well as print magazines such as Backwoods Survival Guide and Prepper Survival Guide. She has been featured in national publications such as Fox Business and Popular Mechanics. Learn more about Bernie here.