After months of advising my relatives to get a water filtration system, one of the families finally decided to purchase one.  I had told them about the Berkey, and they thought this is what they purchased.  Well… not really.
From what the family member told me, the booth at the trade show they attended had two filtration systems side by side:
1-  the clear Berkey Light, with the red food dye in the canister above, being filtered clear into the canister below, AND
2 – a stainless steel model right next to it which was not being tested.
They wanted a Big Berkey, the kind with the stainless steel housing.  The salesman started with,"This is just like the Berkey, but these Propur filters are designed to be much better…"  In the end, they paid $239 for the unit and took it home.  Now the adventure begins.  They opened the box, and found nothing was labeled, except for a couple of these small stickers that said "Propur," and 1 page instruction sheet.  They wanted to make sure they assembled it correctly so they called me and asked me about Propur which I was not familiar with.
Before they arrived, I did a search on the internet and found the Propur website.  It appears Propur has positioned themselves to be a Berkey competitor.  I wanted a thorough review, but I did not find much information on the web.  Thus I decided to test it myself.  I am not an expert, nor I do not have any scientific water purification measures, but I've used enough water filters to do a road test.  I contacted ProPur's Customer Service to see if they could send me published results (similar to what Berkey posted) but they just sent me back to the website.  When I asked where is the unit made, all I was told was "Europe" but nothing more specific.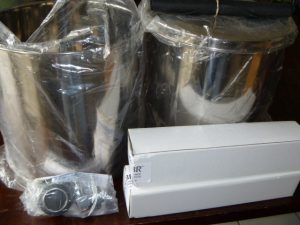 We followed the assembly instructions exactly.  The steps indicated you had to filter two batches of water before it is ready to drink.  Not wanting so waste so much water we filled the top container about halfway with tap water.  We left it alone for about six hours.  After several hours, the water still did not seem to be flowing down.  Not much water was getting purifed.
I called up the seller on their receipt and explained the issue:  not much water is getting through.  The man who answered was not surprised.  He indicated the Propur water filter, when new, will not completely let any water through unless the top canister is completely full.  He said we needed to fill up the entire top canister and let it run through a few times; it may take three days for it to start flowing right.  He also said the top canister will never completely empty out; you will have to keep refilling the top canister close to the top for it to filter properly.  I feel this could be a problem in an emergency if you only have a little bit of water to filter.
Sure enough, once we filled it close to the brim, the unit started running the water through.  We refilled it one more time.  On the third fill up I tasted the water and it did taste better than tap water.   But I was still wondering about its purification abilities, and the amount of contaminants it could filter out.
What I Found Out
After a while I found Debunking the Alternative Choice.  The article does not name names but I am sure who the "alternative choice" is, as they themselves claimed their comparison to Berkey all over their website.  I also ran across the informative article Water Filtration Facts-Pay Attention to the Nines.  In looking at the results posted,  Berkey clearly has more 99.9999% of contaminants covered.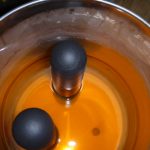 The final test was the food dye test.  I ran water with orange food dye to see if it would filter the dye properly.  Then I waited…  and waited… and waited some more.  There's that flow rate problem again.  The rate of water passing through slowed considerably.  I never had this problem with the Berkey.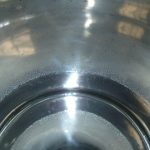 It took over 24 hours for the top container's orange water to get filtered through.  The resulting water did look clear, and was good tasting.  It also worked well with tap water, as long as you keep the top canister full.  However, this final test tells me if I were actually purifying dirty water in an emergency, these Propur filters would take a really long time.  And in an actual emergency, time is something you may be short on.
Ultimately the family who bought the filter decided to keep the stainless steel container since it works okay, but will replace the filters with Berkey's.  In my opinion, if you are in the market for a water filter, make sure you are getting the real article.  Some final tips:
A few dollars price difference is not worth the frustration and lack of confidence.
Research the system thoroughly before you buy
Review the list of contaminants and pay attention percentages of substances removed
Find out the unit's about flow rates:  in an emergency you will likely be purifying unclean water which may potentially slow it down considerably
Purchase from a reputable source.
Find out about return policies.