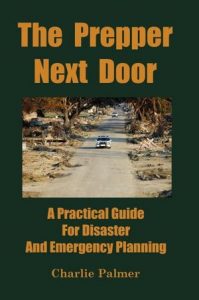 This post is by Bernie Carr, apartmentprepper.com
I just finished reading The Prepper Next Door:  A Practical Guide for Disaster and Emergency Planning by Charlie Palmer.  It is a manual that covers every aspect of survival that you can think of:  food, water, defense, sanitation, health… you name it.  It is packed with useful information from cover to cover.
The book is written in a conversational tone, with plenty of anecdotal stories told along the way.  I really liked the comprehensive information given in the book; you can tell the author knows his stuff and has done a lot of research.   You will want to have a highlighter as you read along, as there is bound to be something you didn't know prior to picking it up.
I also liked that the author was generous about making recommendations regarding products and preferences.  For example, in the firearms section, he mentions types of firearms you will want to have at a minimum if you are on a tight budget.  Having options pointed out is definitely a big help as many readers may not even be aware of all the possible choices and sources out there.  He also explained how some popular ideas may not make sense for certain situations or prepping styles.  I liked that he included sections that described what is the minimum you should do, if you have constraints such as budget or space.
Now for the minuses:  While the chapters are clearly marked, the book could have benefited from additional sub-headings to highlight new sections.  There are a lot of in-depth discussions about each subject matter so the chapters tend to be lengthy.  This is not necessarily a negative, just something the reader should be aware of as he or she allocates time to read the book.  I would have also liked to see photos or illustrations.
This book is not a fast read, nor is it "light" reading; there is so much you can learn from it.  I took my time reading it and made lots of notes just to remind myself of the tips that I wanted to follow.  In the following months, I will try some of the projects described and will post results.
Whether you are just starting out on your preparedness journey, or are in the advanced category, the Prepper Next Door is a valuable addition to the survival library.  I've added a link in my Amazon store – go check it out!
© Apartment Prepper 2012
Get the real deal. Whether bugging out or sheltering in place, you can never have enough clean water for survival: For your water purifier needs, please visit: