This post is by Bernie Carr, apartmentprepper.com
Just one of my quick Saturday posts, where I share news stories that caught my attention.
Homeowner stops two home invaders
This incident happened in Arlington Heights, a suburb of Chicago. Two armed robbers went up to this man's front door wearing coronavirus protective gear – masks and gloves. The homeowner thought they were landscapers.
As soon as the door was opened, the pair rushed in and a scuffle resulted. The homeowner shot one of the criminals in self-defense. The other one ran out the door, was chased and beaten by the homeowner.  The doorbell video footage appeared in The Daily Herald. The criminal who was shot died on the scene, while the surviving suspect was later caught and was charged with murder and home invasion. Illinois has a statute that allows a defendant to be charged with murder if they participate in a crime that leads to a person's death.
These criminals were clearly taking advantage of the current situation – wearing masks and gloves to blend in while disguising themselves. It was fortunate that the homeowner was able to protect himself and his family by having a legally owned weapon. It could have turned out a lot worse if he hadn't.
Other stories…
NY Nurse who recovered from coronavirus beaten and robbed
In other news, a New York nurse who had just recovered from coronavirus herself, was beaten and robbed of her purse by three teen assailants.  According to the New York Post, the three suspects were residents of a nearby group home run by the Administration for Children's Services.
Philadelphia licensed gun owner shot three teens aboard a bus
The last story involves a shooting aboard a city bus, where a man with a concealed carry license shot three teens aboard a bus. He indicated the teens approached him in the back of the bus and a fight ensued.  The three teens have non-life threatening injuries and were taken to a hospital.  The District Attorney will be reviewing the cases to see if any of the ones involved will be charged, according to FoxNews.
Nurses busy fighting coronavirus have their property stolen
This past Thursday, I posted about what's going on with crime amidst the coronavirus pandemic.  Today's stories show that criminals are just waiting to take advantage of any opportunity that presents to them and have no remorse regarding whom they victimize.
Stay safe!
*******************************************************************
Because you never know when you may have to protect yourself and your loved ones with a firearm, it helps to have legal protection available to you when you need it the most. If you don't have coverage, check out USCCA.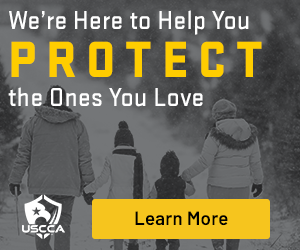 We are an affiliate of USCCA, which means we receive a small commission if you click through one of their links and join. This helps keep the lights on at the blog. Thanks!