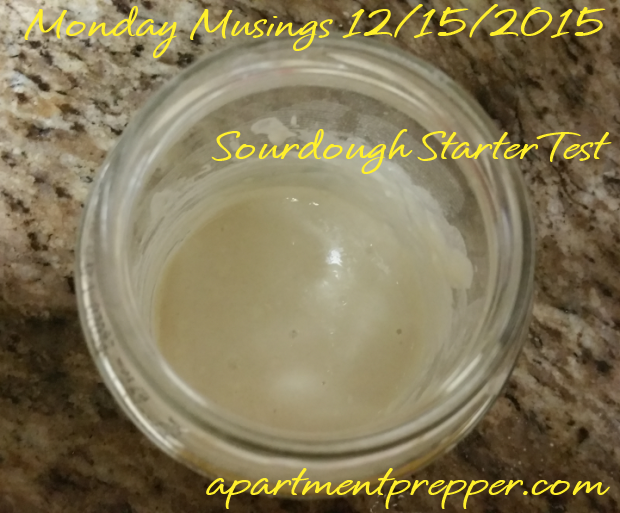 This post is by Bernie Carr, apartmentprepper.com
Welcome to another Monday Musings, where we share interesting links about all things preparedness, as well as updates on the blog.
First the blog updates…
Thanks to everyone who entered The Prescott Bag Giveaway – a winner has been and notified.  This was the last giveaway of the year, but expect you can expect giveaways to start up again in January.
As for what I've been up to…
Sourdough Starter Test
After reviewing Beyond Basics with Natural Yeast I was inspired to get my own starter going.  I had some dehydrated starter dating back from the Oregon Trail that I'd had for a year.  It did not come with directions but I was following directions from the book.  I added water to the starter flakes to reconstitute, and followed directions to make my own starter by adding flour and water.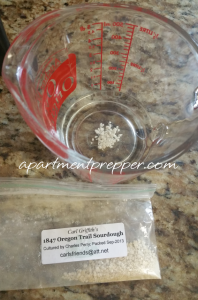 Then I let it sit on the counter for four days.  At this point the starter was bubbly and had a bit of water on top which I tossed out.  I then added flour and water again, as I understood from the directions.  I then placed it in the fridge.
It's supposed to get bubbly and rise then you add more flour and water.  But when I checked it, the starter had a lot of water on top, and it smelled really bad.  According to the directions, if the starter starts to smell, you can either try to "rescue" the starter or just toss and start all over again.  As you know I don't like to waste things, but this starter reeked.  I could not see adding more flour and making bread out of something that smelled so horrible.  Plus I read somewhere that bad starter can be dangerous.  I opted to toss it and start all over. *sigh*  You win some you lose some.  We'll mark this one up as a challenge – I'll try making starter again if a few weeks.
Now for the links…
How to Pull an All-Nighter: Tips from the Special Forces
How To Make Basic Bread From Dough Without Yeast
12 Things You Should Stop Doing That Are Stealing Your Joy
Emergency Communication Devices
Take care and have a great week everyone!
© Apartment Prepper 2014