This post is by Bernie Carr, apartmentprepper.com
Welcome to another Monday Musings, where we share interesting links about all things preparedness, as well as updates on the blog.
First the blog updates…
Lot's of happenings this week at Apartment Prepper!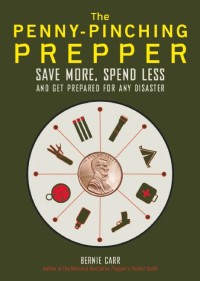 The Penny-Pinching Prepper has been released!  My new book, The Penny-Pinching Prepper was released much earlier than expected.  The publisher originally told me October 12 was the release date, then it got moved to September 21st; but when I checked last week, it turns out Amazon already had it for sale.   If you have ever been concerned about the high costs of prepping, this is the book for you.  It does not have to be expensive to prep.  Check it out!
My first book, Prepper's Pocket Guide (Kindle version) will be on sale for $1.99 for one day only next week, Sept 21st.  It will be featured on the Kindle Daily Deal.  Normally priced at $8.99, you can get it Sept. 21st for just $1.99.
Our new subscriber form is up.  For far too long, I have not had a proper subscriber form, so readers can be informed of the latest posts.  I've had one sign-up form in the sidebar, but it was not getting much attention, being far to the the side.  Stay informed and sign up!   I'll also be working on an exclusive newsletter just for subscribers.
A big thank you to Ready Made Resources  I'd like to thank Ready Made Resources for renewing with us once more.  They are having a huge Mountain House sale right now – lots of great deals!  Check them out at https://readymaderesources.com/
Now for the links…
What to Do If you Think Someone is Following You While Walking
Preserving Apples – How to Make Applesauce, Apple leather and Dried Apple Slices
The Frugal Magic of Substitution
How to Make the Best Jerky in Central Oregon
5 Bread Products to Stop Buying and Start Making at Home
Take care and have a great week everyone!
© Apartment Prepper 2015