This post is by Bernie Carr, apartmentprepper.com
Back in September 2017, credit bureau Equifax announced that a data breach exposed the personal information of 147 million people, according the Federal Trade Commission (FTC).
If you were one of the 147 million affected, you could be owed $125 or free credit monitoring services, thanks to the efforts of the attorney general's offices from 50 states, the FTC and the Consumer Financial Protection Bureau.  Close to two years since the breach, a settlement has been negotiated. But this is not an automatic payment – you'll have to file a claim if you were affected by the data breach.
Find out if you were affected
To find out if you are eligible for the settlement, visit the Equifax Data Breach Settlement Website.
Enter your last name and the last six digits of your social security number and click "submit."  You should check your spouse and children's info as well.
What do you get if you are eligible?
According to the FTC, you can choose one of the following:
Free credit monitoring:  At least four years of free monitoring of your credit report at all three credit bureaus (Equifax, Experian, and TransUnion) and $1,000,000 of identity theft insurance.  Up to six more years of free monitoring of your Equifax credit report.  Any affected person who was a minor in May 2017, is eligible for a total of 18 years of free credit monitoring.
OR
Money: $125 if you decide not to enroll because you already have credit monitoring.
If you spent time or money as a result of the data breach you may also be eligible for additional payments. These can be any of the following:
Losses from unauthorized charges to your accounts
Cost of freezing or unfreezing your credit report
Credit monitoring expenses
Fees you paid to an accountant or attorney
Expenses such as notary fees, document shipping fees and postage, mileage, and phone charges
You may be compensated $25 per hour up to 20 hours.  If you claim less than 10 hours, you will need to describe the activities you had to do as a result of the breach. If you claim over 10 hours, you will need to provide documentation in addition to describing your actions.
File a Claim
If you are eligible, file a claim online here: Equifax Data Breach Settlement
https://www.equifaxbreachsettlement.com/file-a-claim
They also have options to have the claim form mailed to you, as well as an option to file a claim for an eligible person who was a minor in 2017.
The claim process has already started. You can sign up now, and the deadline for filing a claim is January 22, 2020.
What if you do not file a claim?
You'll get free help in recovering from identity theft for at least seven years. If you discover that your personal information has been misused,  call the settlement administrator at 1-833-759-2982. You will be given instructions for how to access free identity restoration services.
Free Credit Reports for All U.S. Consumers
Beginning in 2020, U.S. consumers can get 6 free credit reports per year for 7 years from the Equifax website. That's in addition to the one free Equifax report (plus your Experian and TransUnion reports) you can get at AnnualCreditReport.com. To get a reminder early in 2020, Sign up for email updates from the FTC.
If you found value in the article, please help us keep this site free by supporting Apartment Prepper on Patreon. Click here: https://www.patreon.com/apartmentprepper No worries if you are not able to, I'll still keep writing!
Image by TheDigitalWay from Pixabay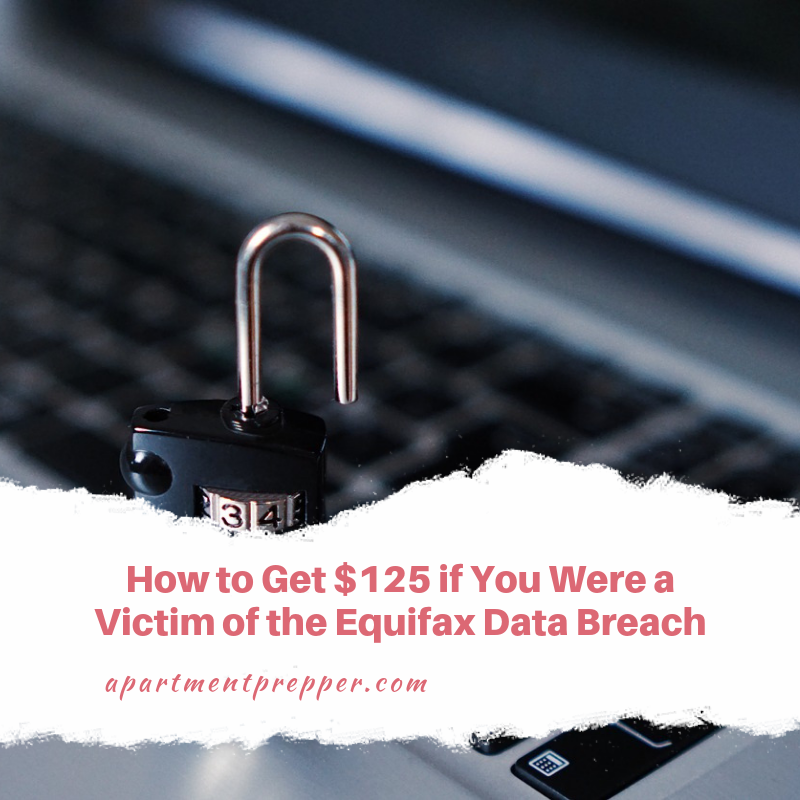 For tips on prepping on small budget, read my book: