This post is by Bernie Carr, apartmentprepper.com
When you start preparing for emergencies you realize you need to have a cash cushion just in case.  You may also want to have extra money to buy supplies.  Over the years I've advised all my readers to have multiple ways to earn additional income.   Today we'll talk about freelance writing.   I should let you know this post contains affiliate links, which means I earn a small percentage if you purchase anything recommended, at no additional cost to you.
What is freelance writing?
The word "freelance" has its roots in medieval times, when mercenaries would fight for whoever offered the highest payment.  The word then came to mean working without any long-term commitment to an employer.  Being a freelance writing means writing as an independent contractor.
Companies, websites and small businesses all need some form of writing, whether it's writing blog posts, magazine articles, ghost writing, press releases, copy writing etc.  They may need just one article, or multiple articles, depending on the project.
Freelance writing is not a get rich quick scheme – you do need to put in a lot of work in building your expertise, and creating a writing portfolio.  I should know, I spend a lot of hours writing this blog, in addition to writing articles for clients.
Pros and Cons
Before we get into any other details, let's look into the pros and cons of freelance writing.   I prefer to get the bad news first, so I will cover the CONs.
Cons
It takes time to build a writing portfolio.
Unlike a steady paycheck while moonlighting at a side job, the pay is not regular.  Read on and I will tell you how you do get paid.
Deadlines can pile up.  You need to manage your time well.
You have to be organized so you can keep track of prospective clients, article ideas etc.
You work alone, so you may miss the camaraderie or the social aspect of office life.
Pros
You make your own hours – you can write as much or as little as you want.  Because I have a full-time job, I write in the evenings and on weekends.
You can write anywhere.
Flexible hours – if you have a second job at a department store for example, you need to show up on time whenever you have a shift.   As a freelance writer, you set your own hours.
You don't need special equipment other than a computer.  As long as you have a word processor and email, you are good to go.
There are a lot of opportunities out there.  Most businesses have a website and have a need for content.  Some freelance writers I know have left their full time jobs as they are making a lot more as a freelance writer.
How do you earn money with freelance writing?
With every article you write, you send out a invoice.  The client pays according to a their payment schedule.  However, once you have gotten started, you can get a better handle of your invoices.
Some clients pay according to word count, while some pay per article.   You can start out low initially, but you can steadily increase your rate as your experience and body of work grows.
How do you get started?
Take a course
You do not need a degree in Journalism or English but you do need to like to write.  Before you jump in, I recommend taking a course on freelance writing that will teach you the basics and all the steps to get you up and running.  I highly recommend the EARN MORE WRITING course taught by Holly Johnson.  Holly Johnson is a successful writer whose bylines  include multiple publications such as Simple Dollar, Forbes, The Reader's Digest, CNN and many others.  She runs a personal finance and travel blog, Club Thrifty with her husband Greg.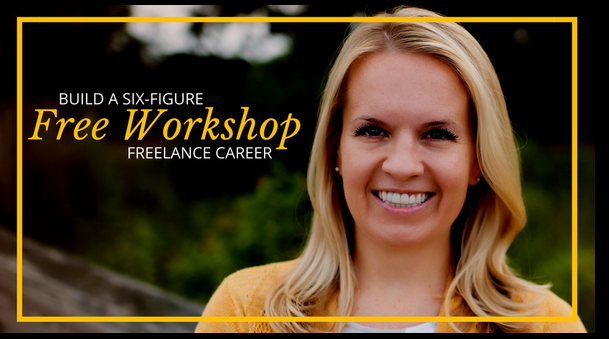 Topics covered in the course include:
How to Establish Your Blog and Brand
How to Build Your Portfolio and Pitch Clients
Defending Your Work Day
How to Transition from Broke to Rich Writing
Finding and Keeping Your Dream Clients
Actually Getting Paid
Get More Work by Making Editors Happy
Taking Your Income into the Stratosphere
Holly also includes a lot of bonus materials such as a sample pitch letter, a list of businesses with blogs, resources for freelancers, anatomy of a perfect blog post and many others.
Try the Free Workshop initially and see if you like it.
With the course, you get access to a writer's Facebook group.   The members include both experienced and new freelance writers and are a great resource.
Start thinking about your niche
You'll need to determine your own interests on topics you'd like to write about.  I got my niche on apartment prepping when I first got interested in preparing for emergencies.  When I started the blog, I had no idea people would be interested.  There are many other niches that may interest you such as:
Personal finance
Travel
Pet care
Child rearing
Food and nutrition
Fitness
Gardening
Home improvement
Create a website
Your website can be a personal one to establish you as a writer, or a blog on a specific topic.  I recommend a WordPress site, as it is the easiest way to get started.  On a future post, I will cover how to start a blog.
For web hosting, I use EMWD.com.  The owner Brian is really helpful and responsive whenever I've had any issues.  Tell them Apartment Prepper sent you!
My personal take on this
I took Holly's course myself and I learned a lot.  I wish I known about it while starting out. I think if I had known the right steps to follow, I would have gotten on the right track right away and avoided making mistakes.    If you do all the exercises and recommended activities, it does take time and effort.  But it is also rewarding.  Once you start getting writing assignments, the course pays for itself.
Just like any job, it is not easy all the time.  Some days it is just hard to write anything no matter how hard you try- everyone experiences writer's block occasionally.  But you can learn how to manage it and write whenever you are able.  I do enjoy writing and being able to deliver on a project is a great feeling.
The most important thing is to follow through and stick to it.
I hope you will find success in your side gig.  If you have any questions, please comment below.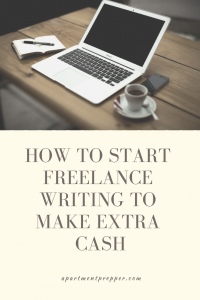 © Apartment Prepper 2019
Resources: