This post is by Bernie Carr, apartmentprepper.com
A while back I posted about great sources for food storage items.  Today I have a new store I'd like to tell you about, and it happens to be a grocery store as well.  I recently shopped a Winco Foods while visiting some relatives.  They told me Winco is their favorite store.  I love the HEB stores in Texas so I wasn't convinced I would be very excited about another supermarket.  I checked it out anyway, and here is what I found.
What is Winco Foods?
Winco is a U.S. grocery store chain that is certified employee-owned.  It started in Boise, Idaho as a no frills grocery store and has steadily grown to 123 stores, located in Arizona, California, Texas, Idaho, Nevada, Oklahoma, Oregon, Utah and Washington.  Because employees have a stake in the success of the store, they are incentivized to provide great quality and give a good shopping experience for the customer:  the stores are clean and well-maintained and have great prices.
Shopping Experience
As you enter the store, the first aisle features items that are on sale.  But if you miss them, it is not the only place you can find them – the sale items are also in the normal aisles.   The produce items were competitively priced – either lower or comparable to other stores in the area.  I did find the fruits and vegetables bins were fresh and well-stocked.
Winco carries both name brands as well as generic brands.  I bought several Winco labeled canned foods, and found them to be comparable to name brands.
As with many supermarkets, pricing on detergents and toiletries are usually better found at discount or warehouse stores, unless the item is on sale.
They have a great selection of store breads and baked goods, and the quality rivals those of name brands.
Bulk bins
I think the best part of shopping at Winco is perusing the bulk bins.  They have an abundant amount of bulk foods for sale, including items I normally do not find in bulk bins at other stores.  I stocked up on rice, baking soda, flour, sugar.  In addition, they carry snack foods such as Chex mix, cheese puffs, nuts, dried fruit, dehydrated vegetables, cereal, candy, chocolate and many others.  I even picked up avocado oil, olive oil, apple cider vinegar etc.
Items are identified by the bulk bin number.  It is easy to go overboard when buying from the bins so I like to weigh everything and note the price on my list.
If you pick up bulk foods, I'd advise repackaging the foods into air tight food storage containers to avoid premature staleness.  If you were going to store them for long term, repackage them into mylar bags with oxygen absorbers and store in 5-gallon buckets or use a vacuum sealer to make them last longer.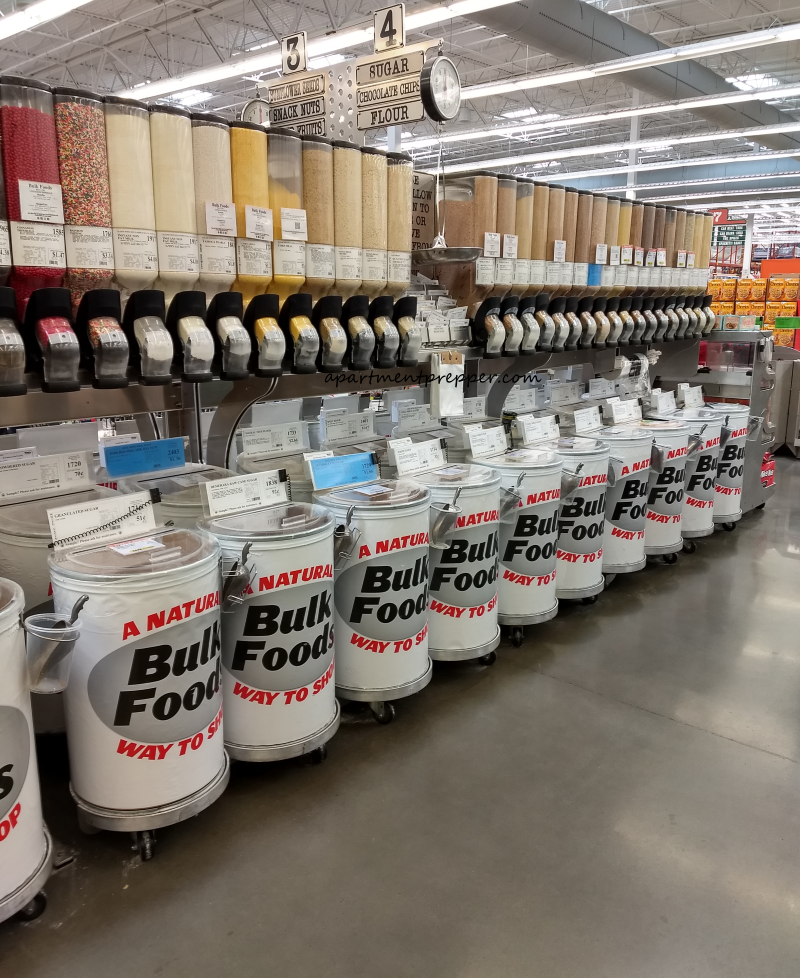 Bag your own
Checking out is easy.  The cashier rings the items, and you bag them.  They do provide plastic grocery bags at the store I visited, but this may vary in each state.
Final tips
Increase your savings – Winco accepts manufacturers coupons.
Visit the customer service counter before you shop to find in-store coupons and deals.   You should also join their mailing list to get advanced notices about sales.
Before picking up the name brand item for cereals, pancake mix or spices, soup mix etc.  check the bulk bins for a corresponding product.  You may be pleasantly surprised at the quality.
Make sure you label your bulk items legibly with the correct bulk bin number.  I also write the  price per unit.
Sale items have green tags, they also show competitors' prices.  Be aware for prices in your area for maximum savings.
Group items in your cart and on the checkout line for easy bagging.
Pay in cash or with a debit card.  They do not accept credit cards at this time.
About the author:
Bernie Carr is the founder of Apartment Prepper. She has written several books including the best-selling Prepper's Pocket Guide, Jake and Miller's Big Adventure, The Penny-Pinching Prepper and How to Prepare for Most Emergencies on a $50 a Month Budget. Her work appears in sites such as the Allstate Blog and Clark.com, as well as print magazines such as Backwoods Survival Guide and Prepper Survival Guide. She has been featured in national publications such as Fox Business and Popular Mechanics. Learn more about Bernie here.