Written by Bernie Carr
I've been practicing preparedness for a few years now and one piece of advice I always tell the readers is to check your gear. A lot of readers comment that they purchase some emergency gear, and immediately store the item in their emergency kit. Recently, I experienced a water filter failure, which can be bad had it happened in a disaster.
What happened?
As you know, I use my Berkey filtration system on a daily basis, ever since I lived in neighborhoods in Houston that had brown water coming out of the tap and "Boil water" emergencies being a common occurrence. I take proper care of it, and the system has always been reliable.
Well this past week, I cleaned my Berkey filter as normal and did the the red dye test to make sure it was still working well. I've had the same filter for close to five years, and that is about the normal lifespan that I've seen. This time, I noticed that red dye did get through, which means it's time for a replacement.
I had purchased a set of filters exactly a year ago and now I was ready to use them to replace the old filters.
New Water Filter Failure
I opened the box and primed the filters as indicated by the instructions. Priming just means forcing the water through the pores of the filters by placing a rubber priming button (it comes with the Berkey filtration elements) onto the stem of the filter then placing it against a faucet. You turn on the faucet gently until beads of water come out of the Berkey filter element. When done correctly, the filter looks like it's sweating.
I primed both elements and set them up.
I filled up the top canister and saw that water was flowing down to the bottom canister.
To make sure the new set is working properly, the instructions do say you should test the water by adding red food coloring to the water. If the filters are working, the red food coloring would be filtered out. I have done this for years.
This time, I noticed red food coloring was coming through. This means the filters are not working properly.
Just to make sure I started over and re-primed both filters and did the test again. I even did it a third time.
Nope. Still not working.
The warranty
Berkey does provide a warranty against defects so I called the 800 number stated in the product instructions. The lady I spoke with indicated she will email me a warranty claim form. I completed the form with my information, photos, and reason for the warranty claim. I heard back from a rep via email within two days. He asked me a few questions.
He initially said he could not see the red color coming through in the photo I sent so I repeated the test with yellow food color. He indicated you must always use RED and no other colors.
I repeated the test again, this time isolating the filters. To do this, you have to place let the filters sit over two clear glasses to find out which one is not working. Both filters were not working.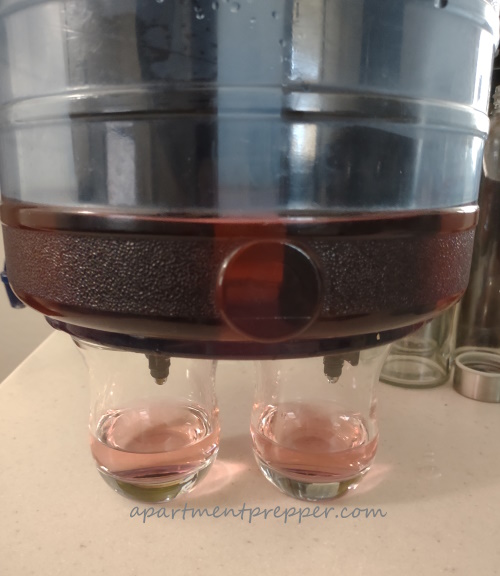 According to the product insert, the Black Berkey® Elements are covered under a two year limited prorated warranty, calculated in six month intervals. Warranty period begins from the date of receipt of the product by the original purchaser on the original invoice.
Unfortunately, I missed the window for the full replacement. The rep emailed back and said:
"It appears you are in the 7-12 month tier of the NMCL Limited Prorated Warranty: 2 Years. This means your Black Berkey® Elements are eligible for replacement at 25% of the full retail value for $43.25 per pair (plus 50% off of shipping).
You will be required to return the original Black Berkey® Elements to the Return Center. We will send you an additional email via UPS with a pre paid shipping label. You will need to include your name and code given so the Return Center can verify who the product belongs to."
He provided a link to their Warranty information which confirmed what he stated.
The rep asked me to email photos of the underside of the Black Berkey elements for identification.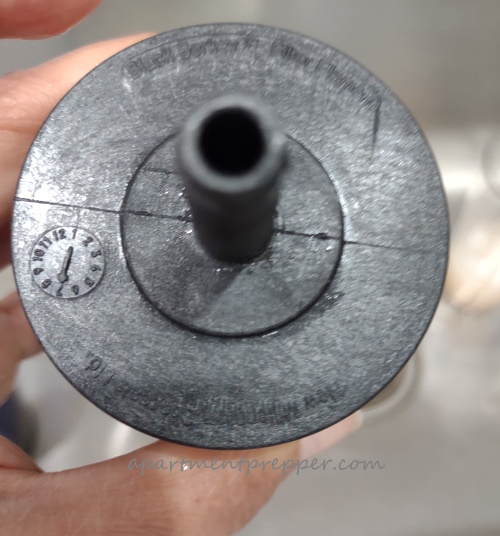 I sent back the filters and wrote in the code the rep provided. Once they receive the returned package, they send me an email confirmation.
I will then have to pay $43.25 per pair (plus 50% off of shipping), even though the filters were brand new, and never used prior. I should not have waited a year to try them out.
The takeaway
Had I tested these filters as soon as I received them a year ago, I would have found out they were defective and immediately requested a replacement. Since I saved them for a year, I am only entitled to a percentage.
Imagine if you were in a disaster and really needed to use your filters, only to find out they are defective! This is why you need to check your gear.
Lesson learned. I am purchasing a replacement, and buying one additional set but this time, I will test it right away and not just store it for when I need it. I still like the Berkey system; but just like any other product, there is always a possibility for defects. I must always try out any gear, no exceptions.
---
About the author
Bernie Carr is the founder of Apartment Prepper. She has written several books including the best-selling Prepper's Pocket Guide, Jake and Miller's Big Adventure, The Penny-Pinching Prepper and How to Prepare for Most Emergencies on a $50 a Month Budget. Bernie's latest e-book, FRUGAL DIY has just been released on Amazon. Her work appears in sites such as the Allstate Blog and Clark.com, as well as print magazines such as Backwoods Survival Guide and Prepper Survival Guide. She has been featured in national publications such as Fox Business and Popular Mechanics. Learn more about Bernie here.
FB: https://www.facebook.com/apartmentprepper
Instagram: https://www.instagram.com/apartmentpreppers/
Twitter: https://twitter.com/AptPrepper
YouTube: https://www.youtube.com/channel/UC7vOtdbo-wiBeBxD6puCr1Q
Pinterest: https://www.pinterest.com/aptprepper/
---
If you found this article interesting or helpful, please consider helping us out (without costing you anything)! We are an affiliate of Amazon.com, which means we received a small commission if you click through one of our Amazon links when you shop, at totally no cost to you. This helps keep the lights on at the blog. Thanks!