This post is by Bernie Carr, apartmentprepper.com
Right before school started we decided to try being off grid and unplugged from all electrical devices for 48 hours.  Being connected all the time, I was a little apprehensive about not being able to check on the blog and being out of reach.  But I thought this would be a good opportunity to test our preps and ourselves.
What it was like to be off-grid for 48 hours
Our destination was remote and had no water except at the trail head where a water pump could be used.  A couple of families participated – we coordinated supplies to avoid bringing duplicates.  We left the GPS device behind.  We turned off our cell phones; but it would not have mattered as there was no cell service for miles around.
Getting There without GPS
We went during the middle of the week, so the area was deserted.  There was not even much street traffic on the route over.  Not having GPS, we had written out the directions.  We got to the small town just fine, then followed the signs.  However, we missed one of the turns and had to backtrack.  We eventually found the place and realized we had driven past the main road.
First lesson learned:  We have gotten overly dependent on GPS and relying on directions from the phone that we now second guess ourselves.  We were a lot more confident about directions when we relied on paper maps.
The Trek
We parked our cars at the bottom of the hill and found the marked trails.  It turned out the trail we intended to take was closed off, and there was no access.  We had to choose another trail which was a lot longer and steeper than the original one.  At this point it was 95 degrees out in the heat.  We had our packs, plus had to collect water at the only source before heading up.
Water is heavy!  Everyone from the oldest to the youngest carried a pack.  We took frequent breaks during the hike.  Because of the heat and humidity, it was hard to breathe while walking and carrying the packs.
Your pack's weight starts to become really critical as you get more fatigued.  When we do this again, we will make sure to keep the packs a lot lighter.
Survival requires being in decent shape, especially if you have to find water.  Someone in our group started to suffer from heatstroke, as he alternately felt hot then strangely started feeling chilled.  We had to give him some wet bandannas to cool off, and lots of water to hydrate.

We did not expect the hike to take so long but the trail closure left us no choice.  Someone in the party was wearing athletic shoes instead of hiking shoes and he got major blisters during the long hike up to the camp site.
In a survival situation, it is best to wear the most comfortable footwear.   
Footcare is important in a survival situation and so is taking proper care of your shoes.
First Aid kit
We brought a standard first aid kit which came in handy for small cuts and blisters.  We also brought plenty of sunscreen and insect repellant.  If you try this, make sure you bring your prescription medications with you.
Shelter
We cleared an area set up our tents in a meadow-like area.  It also takes energy to clear an area and set up shelter, making us even more tired after the long hike.
Thank goodness we had set up the tents properly – the last night of our stay we experienced a spectacular thunderstorm with huge wind gusts that were quite threatening.  The rain and wind beat down on our tents for a couple of hours as we huddled in our own tents praying that our tents would hold up.  Thankfully our tents survived the rain storm; a nice bonus was the weather cooled down to the 60s making a pleasantly cool morning the next day.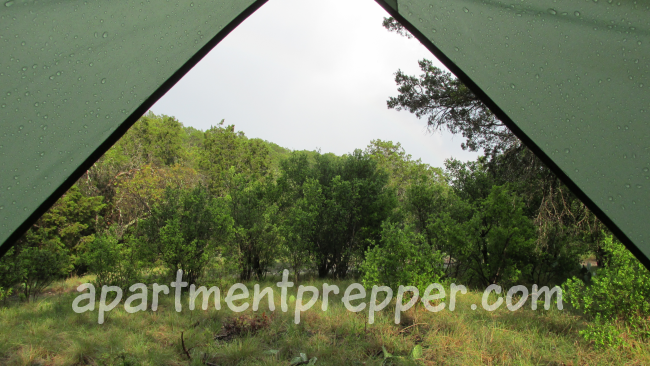 Take the time to choose your shelter properly, as you never know what type of weather you will encounter.   Because we do not use them for cold winters, we have 3-season backpacking tents, and they have worked well for us.  Your choice of shelter will depend on your climate and the areas you will most likely be visiting.
Lighting
We had camping lanterns, flashlights and head lamps.  Next time, I will bring the Luci solar lantern that I recently tested; it would have been a lot more lightweight.
Food preparation
Due to the recent drought, campfires were not allowed in the area.  We used our camp stoves to prepare food.
The food tasted really good because because we were outdoors and we very hungry.   Some of our favorite lightweight foods are Mountain House Chicken and Noodles for dinners, and Mountain House Scrambled Eggs and Bacon for breakfast.  We also brought plenty of food bars for in between meal snacks, as well as the old standby, PB & J sandwiches.
As night approached, it was my chance to test how to tell how much daylight is left when out in the wilderness.  I posted about it here and found the method was surprisingly accurate.
Hygiene
Not having much water was hard on the hygiene front.  I brought baby wipes which helped a lot.  On the plus side, the location did have a composting toilet at a short distance away, requiring a bit of walking.  I was surprised the composting toilet did not smell at all, unlike porta potties or outhouses.  I was so impressed at the condition of the composting toilet that I have started researching DIY info such as this one.
When water is scarce, having backup ways to wash up is important-I will need to stock up on wipes.
Entertainment
The kids initially were worried about not having their computers and Kindle but they adapted very quickly.  The kids learned were taught how to use a sling shot properly -soon they were targeting shooting cacti.  They also found other ways to entertain themselves outdoors such as collecting rocks and snail shells.  We also brought card and board games – the kids played a mean game of UNO and it was a lot of fun.
We also found a nearby river and spent a nice day wading in the cool water.  The kids enjoyed pitching rocks, playing in the water and trying to catch fish.
Another unexpected delight was watching fireflies flitting around outside the tents.  Being city folks, we rarely see fireflies and found them really fascinating.
After the 48 hours were up, we returned to "normal life,"  tired but glad to know it is possible, even enjoyable in some ways.  We were really appreciative of running water and hot showers when we returned.  I thought I would miss the electronics a lot more than I actually did.  Next time we will try being unplugged longer.
© Apartment Prepper 2014
Show young kids that being prepared can be fun!