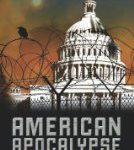 Summertime is a great time to catch up on reading.  I just finished reading a book of fiction, American Apocalypse:  The Collapse Begins by author Nova.  It is the first book in a series of four books.  I read it in two days; I was quite riveted with the story.
The book centers around a young man who finds himself homeless, trying to stay alive in a suburb of Washington, D.C.   Much of the country has fallen into anarchy following a global economic collapse.  Our hero adapts and learns how to survive in the dangerous new world, with constant threats of hunger, looting and murder.  I liked the hero, for the most part, although the character was starting to become somewhat too blood-thirsty for my taste.  However, given the environment and all the suffering he has endured, it was a natural progression to become desensitized and cynical.
The most fascinating part of the book, to me, was reading about the environment in the city itself, after the economic free fall.   In the book, the global economic disaster sends the U.S. on the way to third world country status, but the other countries are not faring any better.   It was chilling to read about how the infrastructure starts to crumble when there is no money to pay for services:  the roads fall into disrepair, trash does not get picked up and no police force to enforce the law in many outlying areas.  Because of lack for funding, the authorities start to limit their services only in the prosperous areas where employed people could still afford to pay taxes.  The description of the tent cities, of homeless people living in the wooded areas of the park, and "car people" who lived in their cars in vacant industrial parks felt a little too close for comfort as we hear of this happening already.
As I read through the book, I could not help but think, can this really happen?  With the economic situation not getting any better, I can see how things can devolve and spiral downward.  Though it is a work of fiction, I could not help but see parallels in current events.  I hope and pray things do not take a turn for the worse, but prepare just in case.
I am looking forward to the next book, American Apocalypse Wastelands, scheduled to be released in August 2011.