Written by Bernie Carr
A family friend of ours had just recently moved to Texas when the unprecedented snowstorm and subsequent power disaster happened. Although it does get cold in Texas during the winter, no one had ever thought a snowstorm of this magnitude, let alone widespread power, gas and water failure would happen.
One of the first things that affected our friend when she lost electricity was the lack of lighting. She just had one mini flashlight that was not enough. I thought to myself how critical it is to have your family's lighting needs covered. Prepping does come at a certain cost, and whenever I can get a good deal on gear, I would jump at the chance.
That's why when I was offered this opportunity to check out Vont's Lighting Bundle: The Ultimate Survival Kit- 2 Pack Flashlight + 2 Pack Headlamp + 2 Pack LED Camping Lantern, I accepted right away.
Let's look at what it comes with, and why I think it's a great deal.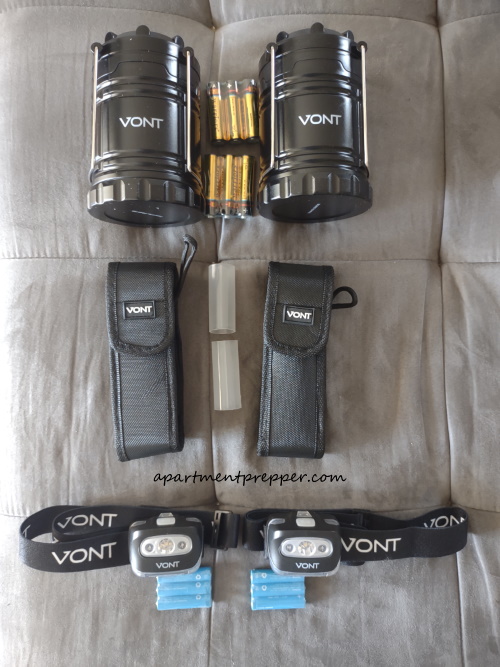 What's in the Vont bundle?
The flashlights have a sturdy construction but is very light and portable. As you can see from the photo, it fits easily on my hand. It can use either three AAA batteries (not included) OR 18650 battery. With the 18650 battery it gives off 400 lumens. The flashlights come with plastic tubes for the 18650 battery. Since I have AAA batteries, that's what I used. All you have to do is slip the batteries in the compartment and you are good to go.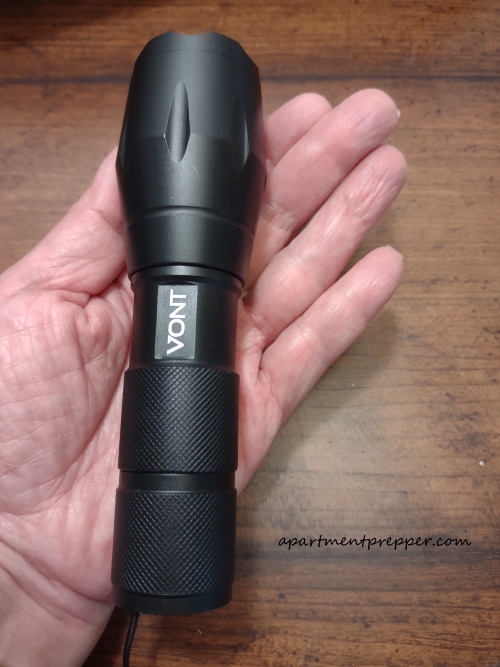 The light modes include Low, Medium, High, Strobe and SOS. The zoom is adjustable just by turning the flashlight – I took a photo of the light as it is zoomed out and zoomed in. I used three AAA in these photos.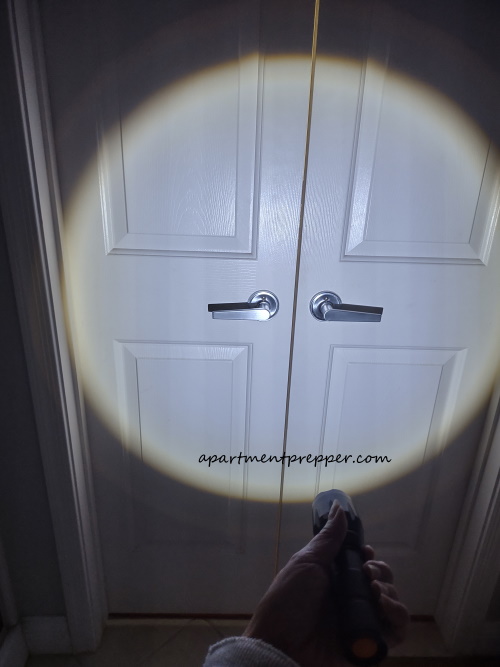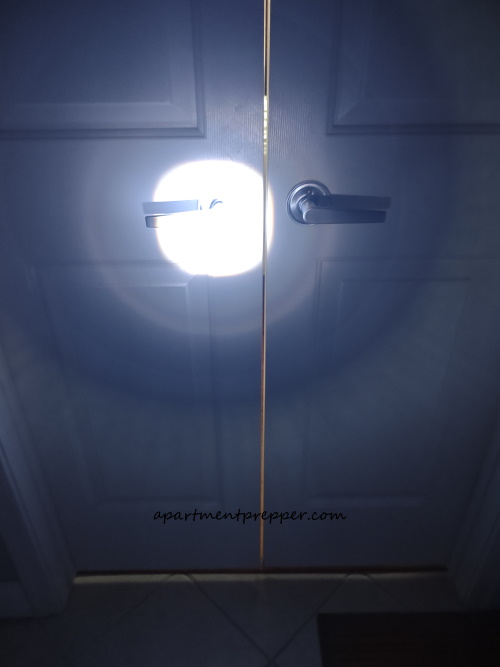 The flashlights are also water-resistant, which is a great feature that comes in handy if you can take it camping or hiking. They are well built and feel sturdy in your hand.
If sold separately, the 2-pack flashlight costs $15.99.
The 2-pack headlamp is a great addition, as you can use it both as a flashlight and hand-free as a headlamp when you need to.
These are great features:
The headlamps are waterproof and drop-resistant.
You can toggle through seven light modes by just pressing a button: Low/Medium/High/Strobe (Main Light) and Low/SOS/Strobe (Side Lights).
a 45 degree tilt so you can adjust the light and not have to strain your neck to see.
The only small difficulty I can foresee in in opening the battery compartment if I had to open it in the dark, the small latch is a bit hard to see.
It gives off plenty of light at 200 lumens and uses 3 AAA (Included).
Sold separately, the two headlamps cost just $13.99 for the pack.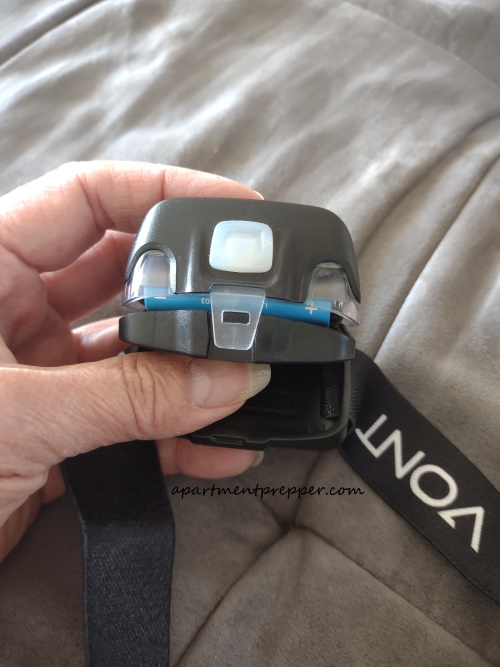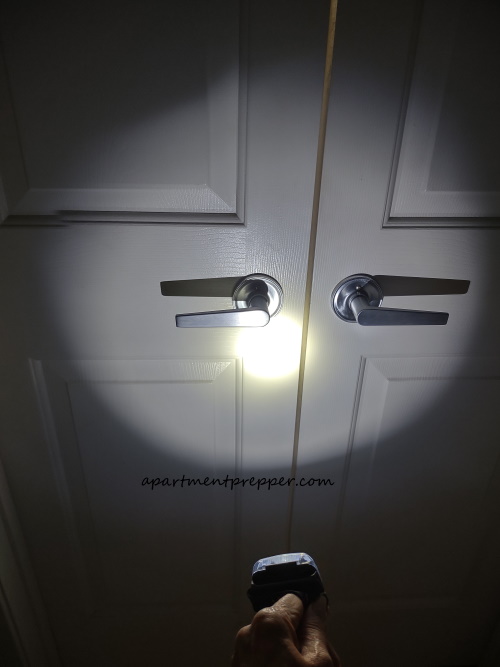 I really like the LED lantern – it is so easy to use. Just slip the batteries in the bottom compartment. All you have to do is unfold the metallic handles and pull up the lantern to give off light. It doesn't get any easier. If you just need a small amount of light, pull it up a quarter or half way. To get the maximum light, pull it all the way up.
Each lantern uses 3 AA batteries (Included) and gives off 140 lumens.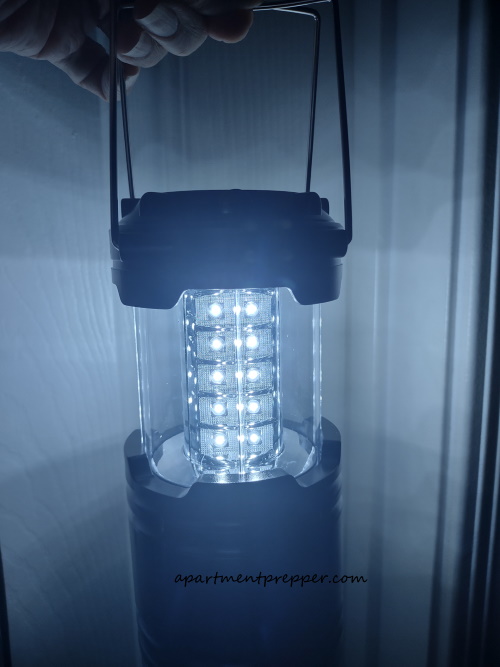 The lanterns are water-proof and drop proof. They are lightweight and portable.
If sold separately, the 2-pack LED lantern costs $17.97.
The final word
I thought the Vont lighting bundle includes some great products at a reasonable price. I like their philosophy: the Vont company believes in providing smart, inexpensive gadgets and want to make it accessible to all.
The products all appear solidly built, and don't feel cheap or flimsy in your hand. I accidentally dropped one of the flashlights on a hard floor as I was testing it in a darkened room and taking photos as the same time. I was worried I broke it, but nope, it didn't break and it lighted up just fine. Now I know it holds up well.
All the lighting gear comes with a lifetime warranty covering defects.
As of this writing, the entire bundle (2 Pack Flashlight + 2 Pack Headlamp + 2 Pack LED Camping Lantern) is priced at just $43.15 – so you save $4.80 if you buy them together instead of separately. But if you just need one or two of the products, they are still competitively priced. They are great to have if you are planning a camping or hiking trip later this year.
I think this would be a great buy for backup lighting before the next power outage. You can also include one or two of the items in your car survival kit. With more natural disasters sure to come, now is the time to choose backup lighting you can count on when you need them the most.
SPECIAL OFFER: Vont, the company that sells these bundles is offering a 10% discount to new customers if the purchase is made on the VONT Website. Please visit https://www.vont.com so you don't miss out!
---
About the author:
Bernie Carr is the founder of Apartment Prepper. She has written several books including the best-selling Prepper's Pocket Guide, Jake and Miller's Big Adventure, The Penny-Pinching Prepper and How to Prepare for Most Emergencies on a $50 a Month Budget. Her work appears in sites such as the Allstate Blog and Clark.com, as well as print magazines such as Backwoods Survival Guide and Prepper Survival Guide. She has been featured in national publications such as Fox Business and Popular Mechanics. Learn more about Bernie here.