This post is by Bernie Carr, apartmentprepper.com
Having very little space,  I am always interested in checking out products that are lightweight, space saving, and energy efficient.  I wanted to see if the LUCI solar lantern would deliver these potential benefits.
Here is my review of Luci Solar Lantern with photos:
The LUCI Lantern came in a very small mailing envelope.  It came intact and well packaged.  Here's what it looked like right out of the mailing package.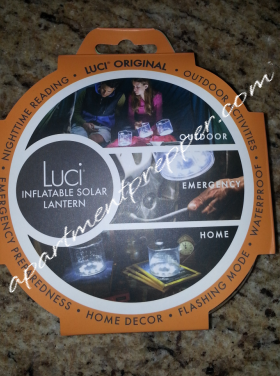 I opened up the cardboard packaging and found the instructions.  The lantern itself is very light and flat.  All the instructions were illustrated, The pictures are simple enough to follow, but being the anal person that I am, I had to go look them up.
I also had some unanswered questions regarding the LUCI Lantern I thought it best to go to the source:  The package indicated the User Manual can be found here.  https://www.mpowerd.com/luci-user-manual
Directions:
Turn the LUCI with the valve facing up.
Open the valve and pinch the bottom while pulling up.  You can then blow into it to inflate it.
Close the valve and push down.
I used a carabiner as a way to hang the LUCI on a nail with the solar panels facing up.  Later in the day, as the sun moved, I hung the LUCI on a tree branch.
According to the User's Manual, eight hours of exposure would give it a full charge.
After the eight hours were up, I took it back inside.  Now it's ready to test.
A button in between the solar panels turns it on.  One push gives a normal light, 2nd push gives it a bright light, 3rd push makes it a pulsing light and the 4th one turns it off.
How long does it last?
According to the User's Manual, when Luci is set on lowest light setting it will provide light for up to 12 hours after a full charge.
What if you store it away after the first charge?
Luci holds a full charge for about three months when unused. After that,
it retains up to 50% of its charge for two years.
How long can it be expected to last?
Again according to the manual, it should last for two full years with constant everyday use, meaning you charge it daily and use it every night.
For an emergency light, I can see it will last for many years, as long as you don't puncture it or place it near a fire.
What I thought of the Luci Solar Lantern
I think it is a nifty product.
I like that it is lightweight, so you can take it backpacking,
It uses very little space, since it deflates and flattens when not in use.
I also like that it runs on solar power, so no batteries are needed.
The only part that I think can be improved is the plastic strip handle across the top – I would have preferred it to be smaller strap that you can hook into.  However this is just a minor point that does not take away from the overall usefulness and efficiency of the product.  As you can see from the photo below, the light output is nice and bright, even at the normal setting.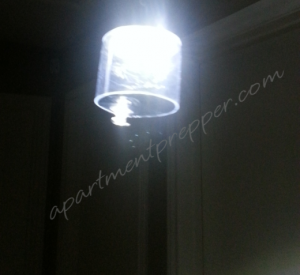 Overall I think it is a great product and would come in handy for either recreational or emergency use.  It is flat and lightweight enough I can take it backpacking.  And, it is reasonably priced for $14.99.  I think the Luci is worth a spot in the emergency kit.  It would also make a great gift, even for both prepper or non-prepper recipients.