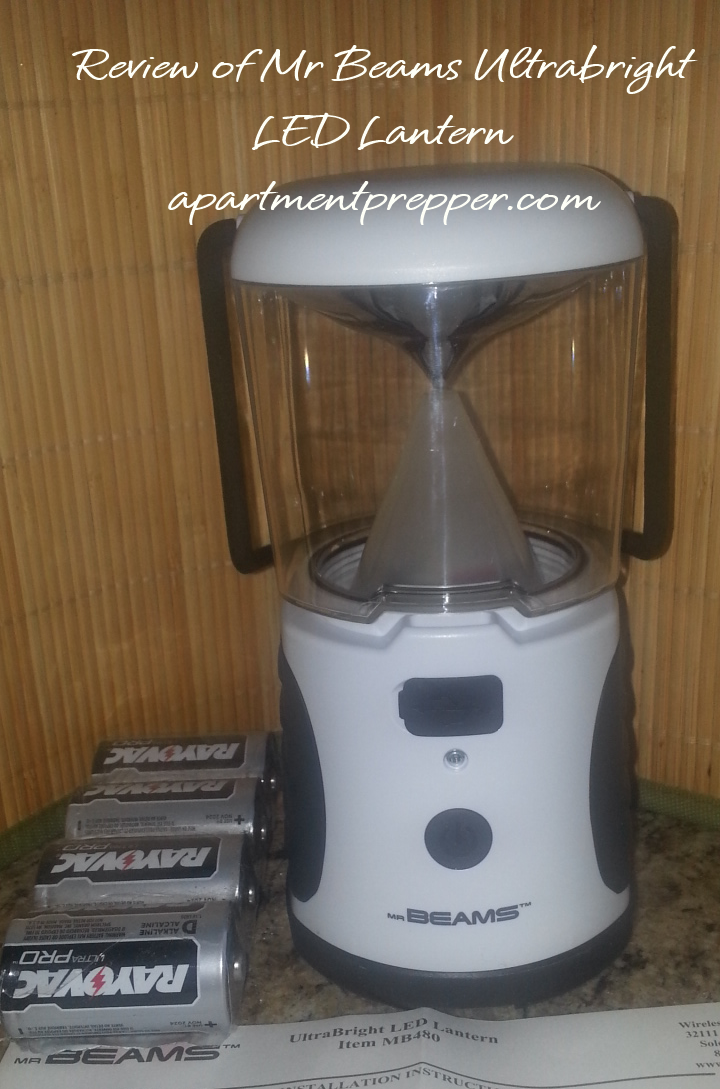 This post is by Bernie Carr, apartmentprepper.com
I had the opportunity to test out Mr. Beams Ultrabright Weatherproof LED Lantern.
The box came with instructions but it is easy enough to figure out and set up.  Just unscrew the bottom lid, open the battery housing unit and insert the batteries.  I tried to turn it on without screwing the bottom lid back on but found you need to screw the lid on shut before it will turn on.  I then took it to the darkest room in the apartment and turned it on.
This lantern gives off a lot of light:  at 260 lumens, it easily lights up an entire room with around 900 square feet worth of space.  Mr. Beams Ultrabright LED Lantern has two settings, bright and dim.  The dim setting gives a good amount of light as well.
It uses four D batteries.  It seems light a lot, but with normal use, the specs indicate an average battery life of 30 hours.  It also has an automatic shutoff feature after 60 minutes, which will help conserve battery life.  I would recommend using rechargeable batteries to save on cost.
The lantern has a USB charging port that will allow you to charge a phone, MP3 player and other USB devices.  However, because I am in between cell phone plans at this time, I was not able to test this feature
Mr. Beams Ultrabright LED Lantern weighs 14 ounces – it is not lightweight and therefore not a backpacking light.  But because it is weatherproof and water-resistant, it would be a good emergency or camping light.  You can hang it upright or even upside down.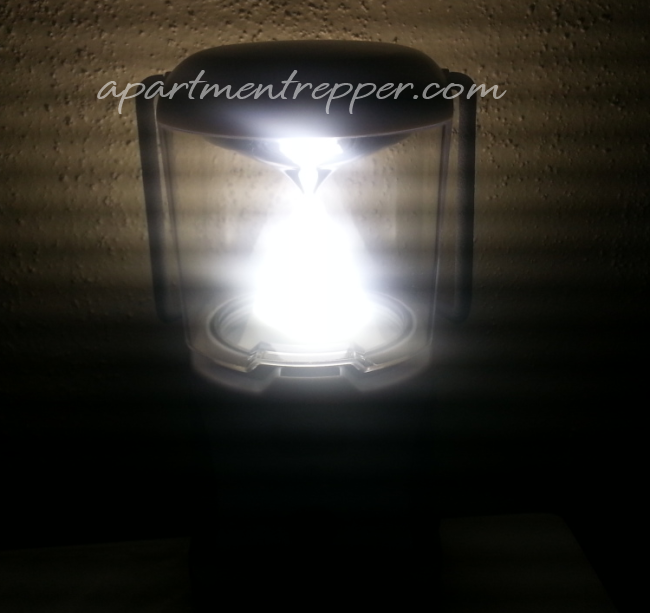 I am always interested in emergency lighting and thought this lantern has a lot of good features.  Mr. Beams Ultrabright Weatherproof LED Lantern deserves a spot in your emergency kit.   It would also make a great Christmas gift for both preppers and non-preppers alike.
© Apartment Prepper 2014
Please click here to vote for me at Top Prepper Websites!