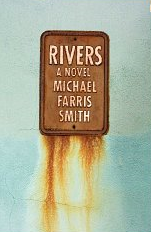 I had the opportunity to read a review copy of Rivers:  A Novel by Michael Ferris Smith.  It is a tale about a few remaining stragglers who crossed paths in a world that is constantly battered by never ending storms and hurricanes.  The story follows Cohen, who lost his wife and unborn child a few years earlier, as he tries to continue surviving in a devastated area, long after the region was declared unfit for living.
The constant misery and greyness of the weather pervaded the entire atmosphere of the book.  There is really no explanation of what is caused the violent weather patterns  it just is.  The idea of having daily storms pounding one area of the country may be a bit hard to accept at first, but as I continued on, I found myself suspending my disbelief and becoming more accepting of the idea.  The writing is rich with vivid images and story moves along in a fast pace that the reader quickly becomes caught up in the story.
You are not going to pick up any ideas about living through a disaster, but it portrays how people react to life threatening situations and their mental states are depicted quite thoroughly.  Many of the characters have done evil things to survive, though they would not inherently consider themselves evil.  They "just had to."  The road to hell is indeed paved with good intentions.
The story moved along in a good pace, and it was easy to become "immersed" in the story, so to speak.  The characters are well written, however I had trouble relating to characters' choices.  In many instances, I did not feel a connection with the characters, and disagreed with many of their actions.  In spite of this, I still felt invested enough to  find out how they fared.  Not wanting to provide any spoilers, I won't say how the story ends.  Though this is a completely different story, there are some parallels to The Road, by Cormac McCarthy, in the struggle to survive and find redemption.
All in all, Rivers:  The Novel is a highly engrossing book and I liked reading it.
© Apartment Prepper 2013