This post is by Bernie Carr, apartmentprepper.com
Gardening is a great skill to learn but it can get expensive if you don't watch your spending. I've talked to people who have spent tons of cash to get started that the five tomatoes they harvested may have ended up costing $10 per tomato. This may cause discouragement which is not productive. Let's look at ways to save money on gardening supplies.
Set a budget
This is an essential step to avoid overspending on your garden. Set aside an affordable amount that you would not go over no matter what.
Save your trash
If you are going to start growing from seeds, save small containers such as yogurt cups, takeout containers, even halved egg shells.  Add a little soil, add the seeds and label with a used Popsicle stick and you are ready to grow seeds.
Get free seeds and plants
Sign up with a seed exchange site. You'll get to correspond with like minded gardeners.  Even though you may not have any seeds to trade the first year, some members give away seeds for free. Or chat with neighbors who love to garden. I got free mint plants from my apartment manager who had an over abundance of mint.
Buy used gardening tools
Check Craigslist or social media such as neighborhood Facebook groups or Nextdoor.com. People are always posting ads to sell used items and gardening tools are always available. You can also check estate sales and yard sales.
Save your receipts
Some home improvement stores such as Lowe's and Home Depot have a one year plant guarantee. 
They guarantee their plants for one year but you must keep your receipt. If you end up with a bunch of dead plants or shrubs, bring them back with your receipt and you will get store credit.  I am planning to get a couple of dwarf fruit trees for my patio this year – I will definitely keep my receipt just in case.
Make your own bug spray
No matter how well you plan your garden, there is no guarantee against pests. I use a homemade soap spray to get rid of bugs. Just fill a spray bottle 3/4 of the way with water, add a few drops of dish washing liquid and shake. This works on soft bodied insects such as aphids, caterpillars etc. You also save money and avoid all those harmful chemicals.
I hope these tips will help you get your garden started without breaking the bank. You'll reap the benefits as you sharpen your gardening skills. What are your favorite ways to save money on gardening? Share them in the comments!
© Apartment Prepper 2019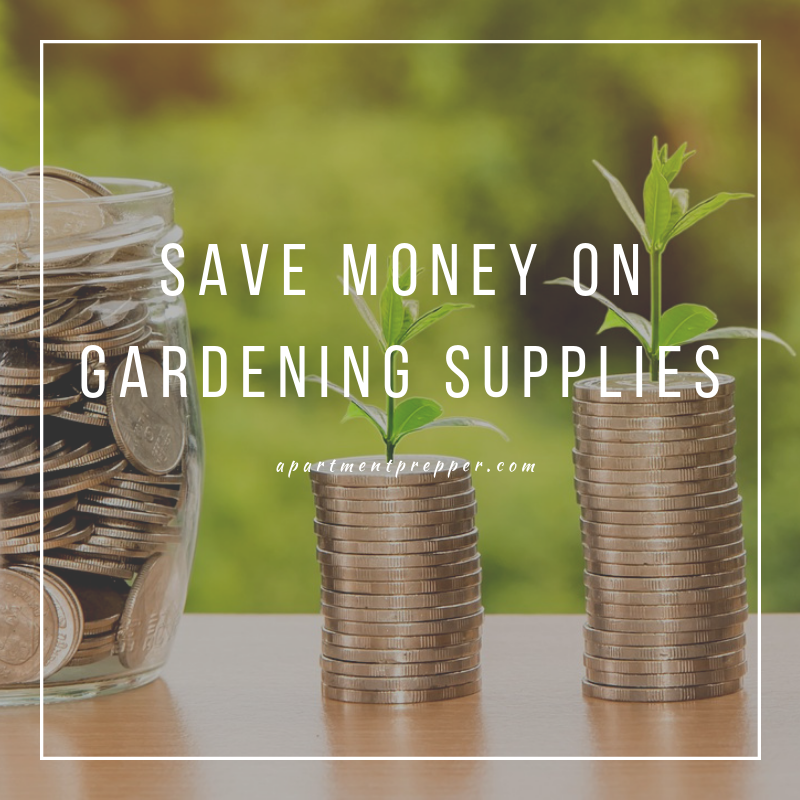 Image by Nattanan Kanchanaprat from Pixabay
For more tips on prepping on small budget, read my latest book: