This post is by Bernie Carr, apartmentprepper.com
I am always on the lookout for good backup lighting and when I found out the SunJack Waterproof Lightstick can also charge devices, I was even more interested.  It is made by the makers of the SunJack Solar Charger which I have previously reviewed.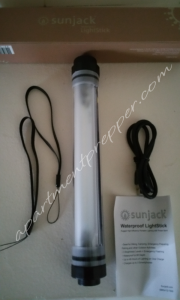 The box comes with:
SunJack® LightStick
Mini-USB cable
2 Lanyards
User manual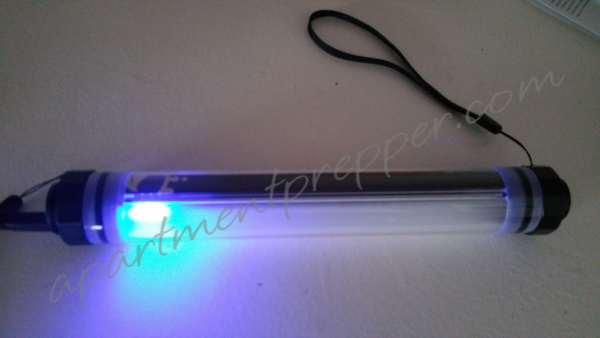 The first thing I did after examining the items was to charge the lightstick.  Using the mini-USB cable that came with it, I connected it to my plug and charged it.  The indicator lights on the lightstick flash while it is charging and stops flashing when it is fully charged.  It took about four hours to charge.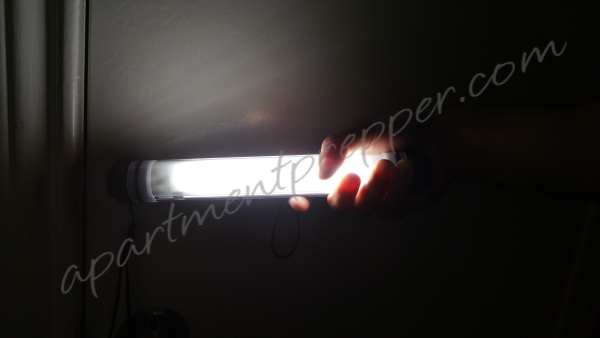 The light itself has 3 brightness settings:  dim, normal and bright along with an emergency blinking strobe.  Even at the dim setting, it gave a sufficient amount of light.  It is not a flashlight with a focused beam; it illuminates a wide area, and is more like a lantern.  The light is also waterproof if you take it to a lake or pond, up to six foot in depth.  I like that feature – if it happens to rain while you take it camping with you, you don't have to worry about the light shorting out.  The two lanyards provided allows you to hang the Lightstick vertically or horizontally across two hooks.

I should mention the batteries are not replaceable.  However, the typical battery life is 500-1000 recharge cycles, at this rate, even if you use and recharge every other day the battery should last over 4 years.
Next, I connected my cell phone to the light stick to see if it would actually charge it.  It worked, and within a couple of hours, my phone was fully charged.
I think the SunJack Lightstick makes is a great emergency light for your home as well as your car survival kit.  It would also be a good camping or hiking light.
Now for the giveaway…
One lucky winner will be chosen via a random drawing to win a SunJack Lightstick, courtesy of SunJack.  To enter, just leave a comment below regarding:
On a scale of 1 to 5, how prepared are you for a power outage lasting several hours?  What backup lighting do you have?

The winner* will be chosen at a random "Pick a Giveaway Winner" drawing on Saturday, May 2nd at 8 pm Central.
*Winners will be notified via email. 
*Winner must reply to email notification within 48 hours or another winner will be drawn.  THIS GIVEAWAY IS CLOSED.

© Apartment Prepper 2015