Today we are looking at the Tactical LED Pen with Glassbreaker by Survival Hax.
What does it do?
The Survival Hax Tactical LED pen has four tools in one:
Writing
Kubotan/Glassbreaker
Flashlight
Firestarter
It comes with a clip so you can secure it to a shirt or bag pocket.
What's it made of?
The pen is hand crafted with aircraft aluminum alloy and a Tungsten steel cone.   It does have a nice, sturdy feel to it.
Using the Tactical Pen
The tip is the glassbreaker/kubotan.  A kubotan is a mini stick that can be used for self defense.  The idea is to strike sensitive areas of an attacker such as shin, stomach, eyes, throat etc using the stick.  Alternately, it can be used as a glass breaker, although I did not attempt to break glass with it, it feels heavy enough to do so. 
You can then unscrew the tip and uncover the pen.  It does write well, and is refillable.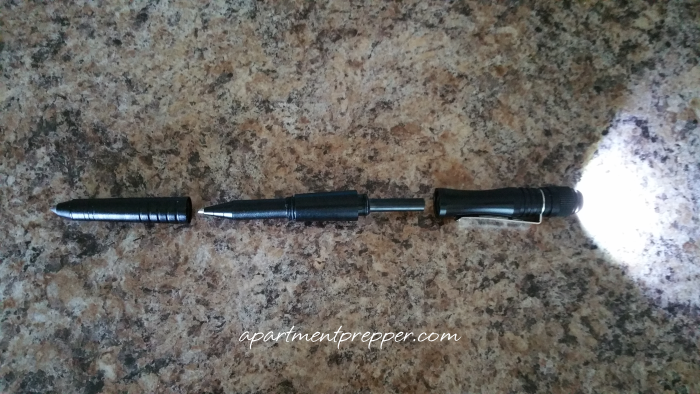 Right below the clip, you can unscrew the next part to find the magnesium firestarter.  You will need a knife or other sharp object to strike the rod, cause sparks and create a fire.
Finally, the opposite tip of the pen is the flashlight.  Just move the tip clockwise and activate the LED light.  The little light is actually bright and would help you navigate around in the dark.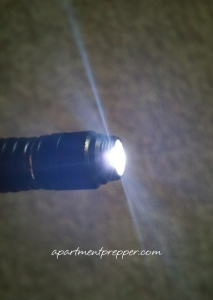 I think the Survival Hax Tactical Pen is quite useful and can come in handy in an emergency.  It has great everyday uses as a pen and mini flashlight.   It would make a good addition as an everyday carry, or as a gift to both prepper or non-prepper recipients.  The pen is available here:  https://survivalhax.com/collections/all/products/tactical-led-pen-with-glass-breaker-and-fire-starter
Now for the Giveaway…
We are giving away a Tactical Survival LED Pen from Survival Hax to one lucky winner.  It is easy to enter.  Entries will be accepted starting today until Wednesday, August 23, 2017.