It's been a while since we tested a freeze dried food selection so now is a good time to try one out.  We've had a busy week and needed something quick to eat without stopping for fast food.  So we opted to try something we already had in the pantry:  Mountain House Spaghetti with Meat Sauce.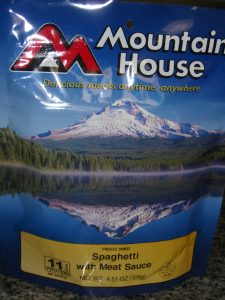 Instructions were simple:  Remove the oxygen absorber, add two cups of boiling water.  Stir, seal, then let stand for about 9-10 minutes.
I know from previous trials that its better to give the freeze dried food more time to rehydrate, so I actually let it stand for 15 minutes.    The result was actually pretty tasty.   They were short spaghetti noodles with little pieces of meat.  It was a bit more saucy than I like in a pasta dish , but not bad at all.  I would not mind eating it again.  The rest of the family liked it so we would give it a thumbs up.  A package has 2.5 servings.