This post is by Bernie Carr, apartmentprepper.com
I received a review copy of The End by G. Michael Hopf.  Here's a quick description of what the book is about:
Young Gordon Van Zandt valued duty and loyalty to country above all, so after 9/11, he dropped out of college and joined the Marine Corps. This idealism vanished one fateful day in a war-torn city in Iraq. Ten years later, he is still struggling with the ghosts of his past when a new reality is thrust upon him and his family: North America, Europe and the Far East have all suffered a devastating Super-EMP attack, which causes catastrophic damage to the nation's power grid and essential infrastructures. Everything from cell phones to cars to computers cease to function, putting society at a standstill.
With civilization in chaos, Gordon must fight for the limited and fast dwindling resources. He knows survival requires action and cooperation with his neighbors, but as the days wear on, so does all sense of civility within his community—and so he must make some of the most difficult decisions of his life in order to ensure his family's safety.
What I Thought about the Book
The book has a good premise for a collapse, and EMP attack.  It illustrated a realistic description of what would happen initially if the power grid were to fail:  most people would have great difficulty accepting that there is no power and will keep trying to get a connection on their cell phones.  The writing style is easy to ready, and the story moves along at a good pace.
I had some difficulty relating to the main character, Gordon.  He tends to view the world in black and white, and makes choices accordingly.  This unwavering world view causes him to make choices that are hard to accept.  The reader will find him making harsh, but necessary choices in the chaos that descends.  Because I disagree with his choices, I did not find him very likeable but that is a personal choice.  My views about the character did not make the book any less readable; instead it gave me a glimpse into how someone else might think and react in such a situation.
What I Learned
Don't be a sheep
Take advantage of opportunities as soon as they present themselves.
As soon as Gordon saw that electricity was off, and planes were falling, he did not hesitate like the other people did.  He was not technically a prepper, but he went into a "ready" mode where collected water, rushed out to get supplies – whatever he could – as he know this was not a short-term situation.
The book that follows The End, is The Long Road is also available.
Now for the giveaway…
One winner will be chosen to win both books:   The End and The Long Road
Just add your comment below:
Describe what would you do if you find the power has gone out inexplicably and cell phones no longer work.  Would you act immediately or wait a while?

The winner* will be chosen at a random "Pick a Giveaway Winner" drawing on Saturday, January 25th at 8 pm Central.
*Winner will be notified via email.  Winner must reply to email notification within 48 hours or another winner will be drawn.
THIS GIVEAWAY IS NOW CLOSED.
© Apartment Prepper 2014
Vote for Me!
Please click here to vote for me at Top Prepper Websites!
Water is one of the biggest needs when it comes to survival.  Whether bugging out or sheltering in place, you can never have enough clean water for survival:
For your water purifier needs, please visit
: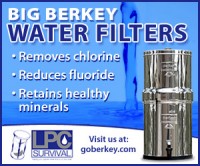 For beginning preppers