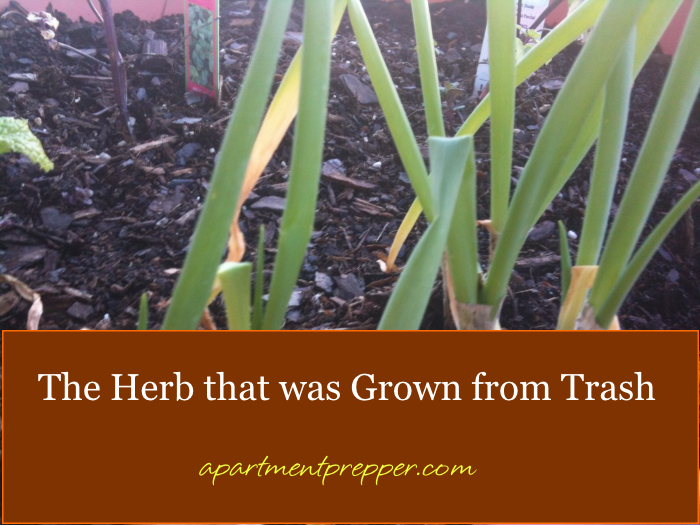 This post is by Bernie Carr, apartmentprepper.com
This year I am going to make an effort to avoid wasting food.  I made a salad and had used up a bundle of scallions, except for the root which I had left in the refrigerator for a couple of days.  I was about to toss these soggy roots into the trash when I decided to see if they would grow back: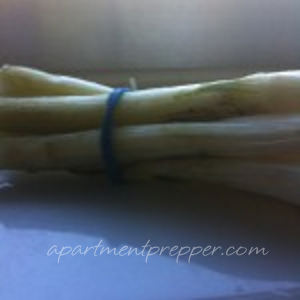 If you have never used scallions, they have a mild onion flavor and are usually chopped up for use in salads, soups or stir fry dishes.   You can also mix them with chopped tomatoes and jalapenos for fresh salsa.  Scallions are also known as green onions or spring onions.
Steps I took:
I removed the rubber band and set them in about 1/4 cup of water in a Styrofoam cup.  After a couple of days, the roots grew and the green stem grew about an inch.
I took 3 of the roots and set them in dirt out in the balcony.
The other 3 I left in the water.
After about a week, the ones left in the water got wilted and the water smelled like rancid onions.  I dumped those out.
The ones I stuck in the dirt grew a new set of green stems.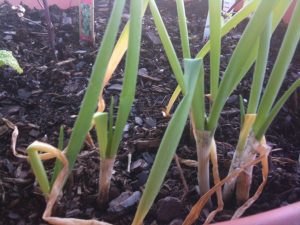 We had freezing temperature for a couple of days but luckily they survived.  If you live in a colder climate, plant them in a small pot of dirt and leave it in a sunny window.  Now they are ready to use for the next salad or stir fry.  If I don't use them up, I will try letting them dehydrate and use them dried.
For more fast and easy tips to become more prepared, read my book: