I received a review copy of The Prepper's Cookbook:  300 Recipes to Turn Your Emergency Food into Nutritious, Delicious, Life-Saving Meals by Tess Pennington.
In it you will find 300 recipes using common food storage items, many of which you may already have in your kitchen shelves.  The recipes are easy to follow, and require no special equipment.
The book includes practical tips for starting, building and using your emergency pantry.  I liked the section on making your own seasoning mixes, ingredient substitutes, and enjoyed the section on beans and rice.  Beans and rice are some of the most common and inexpensive items you can keep in your food storage, but sure can get boring if you prepare the same thing day after day.  The Prepper's Cookbook includes a lot of variations that no one will mind eating.
I tested the recipe for Cuban Black Beans and Rice because I already had all the ingredients available.
The dish turned out very well – here is a photo: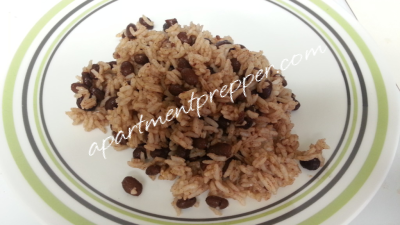 Even if you don't like beans and rice, there are lots of recipes to choose from, and there is a whole section on kid-friendly snacks.  You too can try these recipes – I recommend you pick up The Prepper's Cookbook by Tess Pennington.
The Giveaway
A copy of The Prepper's Cookbook is reserved for one lucky winner.  For a chance to win, just leave a comment below:
— What is your favorite food storage tip?
OR
— How many months worth of food storage do you currently have?
The winner* will be chosen at random on Saturday,  August at 8 pm Central.  Good luck!
THIS GIVEAWAY IS NOW CLOSED.
*Winner will be notified via email.  Winner must reply to email notification within 48 hours or another winner will be drawn.