This post is by Bernie Carr, apartmentprepper.com
Face masks are required in several states and jurisdictions, and the "no mask no service" is strictly enforced by many establishments. When I am out and about, I also see a wide variety of masks being used, and always wondered which ones really work and which ones don't. What I really wanted to know was which mask is the worse type and which ones are are best for preventing the spread of COVID-19.
I read a couple of reports that shed some light as to which masks work and which ones are to be avoided.
Duke University Mask Study
A recent study conducted by Duke University ranked 14 common face masks and their effectiveness.  They performed simple tests using using a cardboard box with a lens, a laser and a phone's camera to track particles released from a person's mouth while speaking. They had the test subjects speak into a box, repeating the same phrase with each mask. Each mask was tested 10 times.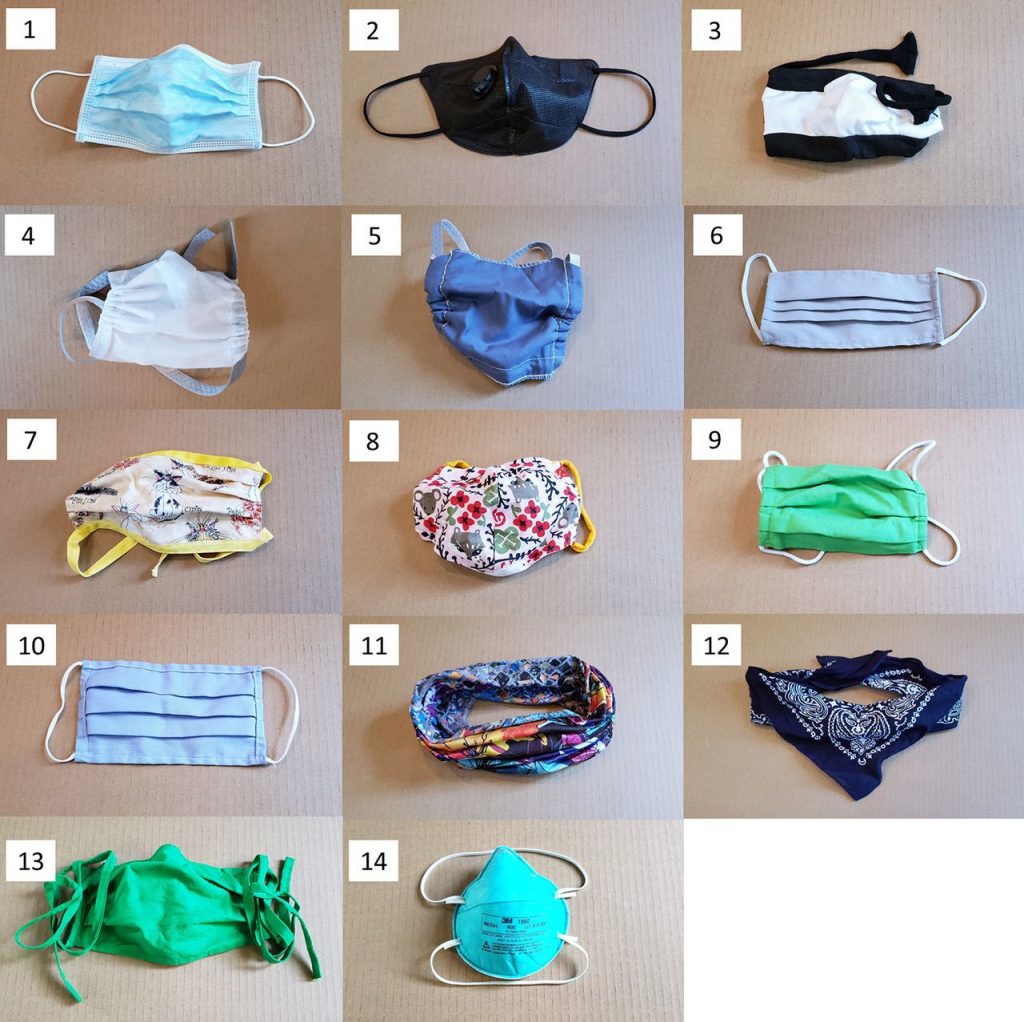 Results
I'm not going into each type of mask tested but you can see the results in the graph (on the left) below:

The best performers
Fitted N-95 mask  (#14 in the photo above)
Three-layer surgical mask (this is the common surgical mask we often see worn by doctors  (#1 in the photo above)
Cotton-polypropylene-cotton mask (#5 in above photo)
Least effective
Bandanna (#13 in the photo above)
Gaiter style neck fleece (#11 in the photo above)
So the least effective was the neck gaiter type, as it was found to be too thin according to the researchers.
Don't use this type of mask
The Centers for Disease Control (CDC) just clarified what type of masks should not be used by the public, and that is masks with exhalation vents or valves.  According the CDC:
The purpose of masks is to keep respiratory droplets from reaching others to aid with source control. However, masks with one-way valves or vents allow air to be exhaled through a hole in the material, which can result in expelled respiratory droplets that can reach others.  This type of mask does not prevent the person wearing the mask from transmitting COVID-19 to others. Therefore, CDC does not recommend using masks for source control if they have an exhalation valve or vent.
Conclusion
I ordered N-95 masks online to replace the ones I have used up. We don't know if there will be a second wave of the pandemic. Mask supplies are becoming available again so now is a good time to restock. If you are going to replenish your supply, you might as well buy ones are known to work.
**************************************************************************
We are an affiliate of Amazon.com, which means we received a small commission if you click through one of our Amazon links when you shop, at totally no cost to you. This helps keep the lights on at the blog. Thanks!
About the author:
Bernie Carr is the founder of Apartment Prepper. She has written several books including the best-selling Prepper's Pocket Guide, Jake and Miller's Big Adventure, The Penny-Pinching Prepper and How to Prepare for Most Emergencies on a $50 a Month Budget. Her work appears in sites such as the Allstate Blog and Clark.com, as well as print magazines such as Backwoods Survival Guide and Prepper Survival Guide. She has been featured in national publications such as Fox Business and Popular Mechanics. Learn more about Bernie here.